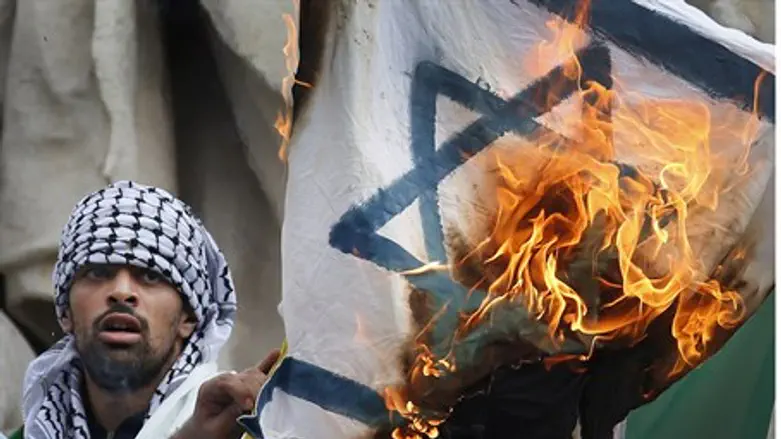 Anti-Israel protest in Paris
Reuters
The University of Illinois at Urbana-Champaign was reproached by the American Association of University Professors this weekend months after rescinding its job offer to a professor who posted virulently anti-Israel tweets during Operation Protective Edge. 
Weeks before he was due to join the faculty of UIUC's American Indian Studies program, Professor Steven Salaita wrote a series of incendiary tweets regarding the ongoing war in Gaza.
One tweet likened Israel's defenders to "awful human beings" while yet another suggested it would be no surprise if Israeli Prime Minister Binyamin Netanyahu "appeared on TV with a necklace made from the teeth of Palestinian children."
The tweets spread and before long were reported on by local media. In response, the school revoked its offer to Salaita in August; a month later the Board of Trustees voted against his hiring. 
Now, nine months later, AAUP has voted to censure the university, basing its decision on the argument that UIUC violated due process by dismissing Salaita after he had already been appointed a faculty member. 
While AAUP members lauded the decision to censure "one of the more significant violations of academic freedom this decade," Cary Nelson, a former president of the group and an English professor at UIUC, backed his university's initial decision. 
"When Salaita tweets, 'If you're defending Israel right now, you're an awful human being,' he issues a judgment about his future students that would justify them believing they would be academically at risk in expressing pro-Israeli views in class," he told the Chronicle of Higher Education. 
"It's not a violation of academic freedom to decide you don't approve of someone's publications or their public use of social media. It's not a violation of academic freedom to decide not to hire someone with a deplorable role as a public intellectual."
UIUC, for its part, said AAUP's decision was "disappointing, but not unexpected."