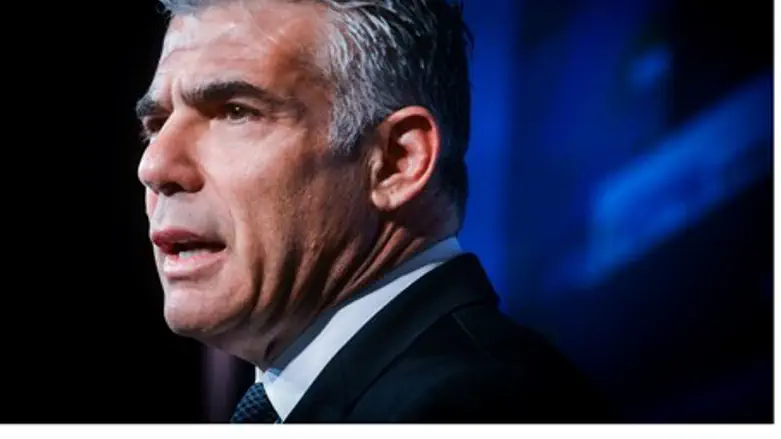 Yair Lapid
Flash 90
Yesh Atid chairperson Yair Lapid backed his erstwhile ally Jewish Home chairperson Naftali Bennett in a TV interview over the latter's decision as Education Minister to cancel funding for the play "The Parallel Time," which tells the story of Arab Israeli terrorist Walid Daka who abducted and mutilated IDF soldier Moshe Tamam in 1984.
Speaking on the show "Hamateh Hamerkazi" ("The Central Headquarters"), Lapid said, "the state of Israel doesn't need to fund plays about terrorists."
"We can't continue in a situation in which the state funds anti-Zionist works that erode our ability to survive as a state. The state doesn't need to support things directed against it that turn the culture into a bacteria that erodes away at it (the state - ed.)."
The 19-year-old Tamam was abducted and murdered by Arab terrorists from Baka al-Gharbiya as he hitched a ride with them on his way to the town of Havatzelet Hasharon. The abduction didn't occur in Judea or Samaria, but rather in the coastal region between Haifa and Tel Aviv.
After holding him captive for several days, the Democratic Front for the Liberation of Palestine (DFLP) terrorists murdered Tamam by mutilation, gouging out his eyes before cutting off parts of his body starting with his genitals and then shooting him. They were released in late December 2013, part of the third batch of a total of 78 terrorists who were set free by the last coalition government in "gestures" to the Palestinian Authority (PA) for peace talks.
Staying within the world of theater, Lapid turned his attention to Culture and Sports Minister Miri Regev (Likud), who recently released critical statements against leftist artists and decided to impose sanctions against the Arab actor Norman Issa, who refused to perform for communities over the 1949 Armistice lines.
"She's a new minister. Of course she and the government are interested in encouraging culture and I saw that artists left the meeting with her level-headed and wanted to see how it would be possible to work with her," said Lapid.
When asked about the possibility that he might still join the coalition government, he clarified, "I won't join the government, this is a bad government which began its path with a liquidation sale of everything that is important to the state of Israel."