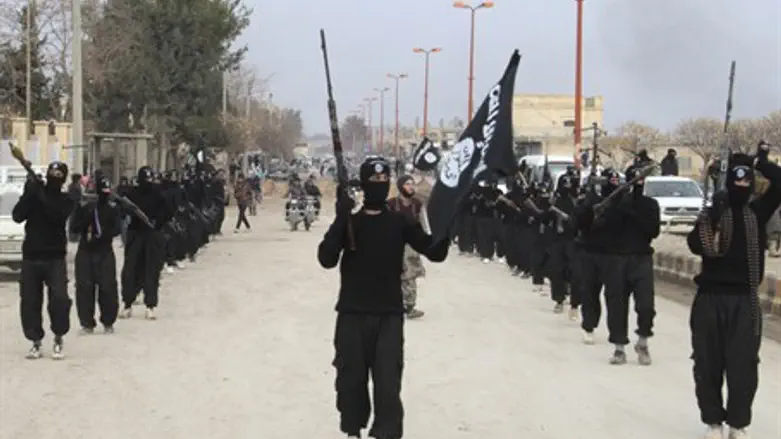 Islamic State terrorists (file)
Reuters
Graffiti claiming Islamic State (ISIS) is planning an assault on Israel was found in a Be'er Sheva playground on Friday morning, hours after terrorists in Gaza fired a rocket in the direction of the Ashkelon area. 
"Islamic State will attack Israel soon," the graffiti stated, in both Hebrew and Arabic. 
Sirens sounded in the Ashkelon region Thursday night, but no hits were recorded. IDF officials stated that the rocket is believed to have fallen short and struck inside Gaza itself. 
Members of the Salafist group "Sheikh Amar Hadid Brigades," which is affiliated with the Islamic State group (ISIS), claimed credit for an attack last Wednesday, just days after they claimed a Grad rocket attack on Ashdod.
Hamas contacted Israel after the rocket strike last Wednesday and said the ISIS affiliate had conducted it so as to cause conflict between Israel and Hamas, as an act of revenge after the Salafists and Hamas have been clashing in Gaza.
No fewer than four Israeli Arabs have died fighting for ISIS in Syria and Iraq.
The group has also made inroads to Judea, Samaria and Gaza, with an ISIS cell busted in Hevron last November. By last October security sources revealed that already no fewer than 30 Arab citizens of Israel had joined ISIS.
A significant number of Gazan Arabs have also traveled to Syria and Iraq to fight for ISIS.