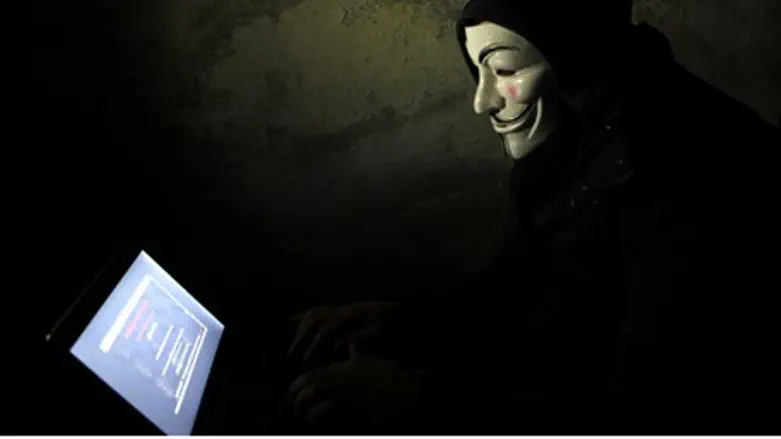 'Anonymous' hacker (illustrative)
Flash 90
Any speculation that Israel spied on Iran or Western powers using a virus, as a report in the Wall Street Journal alleged Wednesday, is just that, said Yitzhak Ben-Israel, head of the National Cyber Authority.
"These viruses are found on millions of computers around the world. It's similar to a mass virus that is spread between people – trying to track down the origin of a virus is speculative. There is often no way to pinpoint the culprit."
Nevertheless, said Ben-Israel, hacking to discover secrets "is part of the game, especially for issues like the Iranian nuclear program."
While it might be logical to assume that Israel perpetrated the hack, "there is no proof of this," he added.
Earlier Wednesday, the Wall Street Journal, quoting a report issued by the Kaspersky Lab ZAO, said that American officials suspected Israel in the planting of a version of the Duqu virus, which was found in the servers of several hotels where the virus had been discovered – specifically the hotels in Switzerland where the talks were taking place.
Kaspersky checked thousands of hotels throughout Europe, but found the viruses only at those locations.
Kaspersky officials allegedly did not name Israel as the official source for the virus, but noted there were subtle signs implicating it, including the name of the virus as "Duqu Bet" (Hebrew: Duqu 2). 
In an interview with Israel Radio Wednesday night, Deputy Defense Minister Eli Ben-Dahan called the allegations "utter nonsense. Israel does not use such methods, and we already have sufficient methods to find out what is going on in the talks." 
With that, Ben-Dahan admitted it was possible that Israel had breached computers and networks to get information, and that he had not been included in discussions on the matter.
The Wall Street Journal said that Kaspersky has reached out to the Federal Bureau of Investigations (FBI) over the report; the FBI has so far remained silent on confirmation of the report's findings, but one senior congressional official said the matter is being taken seriously.
The State Department on Wednesday refused to comment on the allegations, adding that when the U.S. conducts such negotiations, it takes great pains to ensure that the proceedings are secure.