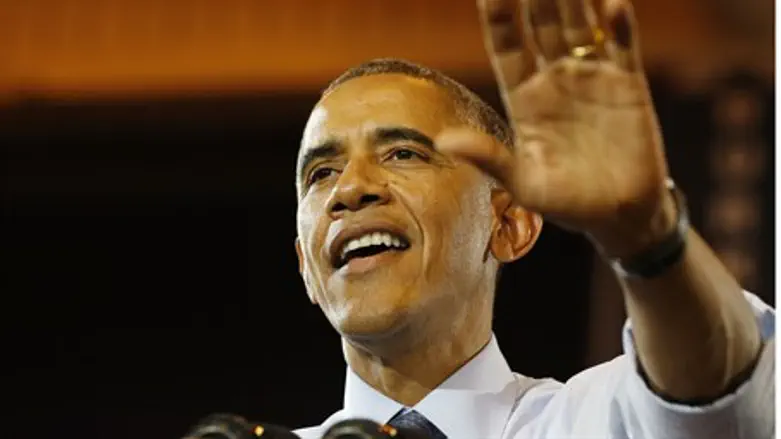 Barack Obama
Reuters
As the June 30 deadline for a final agreement between Iran and western powers looms - pushed by the Obama Administration - much concern has been raised as to how it could further destabilize the Middle East by emboldening Tehran to continue its increasingly aggressive foreign policy.
In particular, since the agreement will not require Iran to discontinue its support for terrorist groups and other radical proxies - such as Hezbollah, Hamas and a growing array of Shia militias in Iraq and Syria - as a prerequisite to receiving sanctions relief, observers have warned that much of the billions of dollars Tehran gains would be funneled to such groups and stoke conflicts throughout the region, including against key US allies.
But it appears the US government may be going even further in its attempts to coax Iran into a deal at almost any cost.
A prominent Lebanese activist has claimed the US government is cutting funding to independent, moderate Shia groups opposed to Hezbollah, as a direct result of the White House's policy of appeasement.
Loqman Slim, who runs the Hayya Bina (Let's Go!) NGO in Beirut, shared a letter he received from a US State Department agency with Lebanon's NOW news. In the letter, he is informed with astonishing openness that
"[D]ue to a recent shift in Department of State priorities in Lebanon […] all activities intended [to] foster an independent moderate Shia voice [must] be ceased immediately and indefinitely."
Slim and his colleagues accuse the Obama administration of throwing its former allies under a bus and consciously empowering Hezbollah to appease the group's Iranian patrons.
"So we don't support Shia democratic activists anymore?" asked Hayya Bina's Program Director Inga Schei herself a US citizen.
"This is an alarming shift, and it sends a message not just to us but to all the Shia who are receiving funds from the [US] embassy, who are cooperating with [Hezbollah's political opponents] March 14, or outspoken in their own capacity, or expressing an alternative vision for the future of this country. It sends a horrible message to all of these people," she warned.
Slim himself says he sees it as part of a wider policy of appeasement.
"We see clearly that US policy in Lebanon is based on the idea of not upsetting Hezbollah. Clearly. Whatever they can do not to upset Hezbollah, they do it," he lamented.
However the US Ambassador to Lebanon David Hale denied there had been any such shift in American policy in Lebanon.
"A shift in one sub-grant that represents a change of less than one tenth of a percent of America's non-military assistance to Lebanon does not constitute a policy shift," he told NOW. "We have an array of programs designed to support moderate voices in a myriad of ways across all religious sects. We remain strongly committed to promoting peace and moderation in Lebanon, as a cornerstone of our policy."
A State Department official similarly claimed that Washington's policies and priorities had not changed, and that the withdrawal of funds was due to "performance issues."
"As a matter of policy, the Department continues to support independent Shia via a number of programs," the official said.
However Schei and others in Hayya Bina said they were never informed of any such performance issues, and that in fact their recent audit had been exceptional.
"In addition to the letter provided by IRI on April 10, IRI emphasized that the reasons for halting funding were related to policy, and not the integrity of our work," she stressed.
What's more, another prominent Lebanese activist dismissed the US Embassy's claims of supporting other moderate Shia groups, saying the grant to Hayya Bina was the sum total of the US government's investment in independent Shia voices.
"Short of Hayya Bina, they haven't supported anyone," Malek Mroue insisted. "I've worked on this for the past 10 years, and I deal with most of the independent Shia, and I've talked to the Americans, and I haven't seen any support whatsoever, neither financial nor political, short of Hayya Bina."
"The [US] is claiming they're helping, but this is all lip service to something that never existed, and actually harms the independent Shia who are working with their own resources without US support."
The news comes less than a year after it was revealed that the US government was providing indirect aid to Hezbollah in its fight against Sunni rivals including ISIS, as part of a wider strategic shift to cozy up to the Shia Islamist terrorist group, which also includes intelligence-sharing.