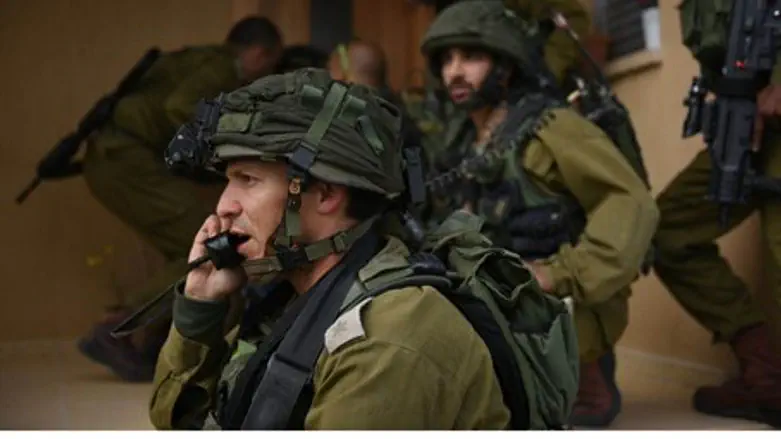 IDF (illustration)
IDF Spokesperson Unit
The IDF went to extraordinary lengths last summer to prevent civilian casualties while fighting Hamas terrorists in Gaza, achieving a remarkable 1:1 civilian to combatant ratio, but according to international legal experts it went too far in avoiding casualties among the enemy population.
Willy Stern of Vanderbilt Law School, in an article to be published next Monday in the Weekly Standard, details what he found while spending two weeks with attorneys in the IDF's international law department dubbed "Dabla" as well as front-line commanders, and documents the IDF's "legal zeal" which as he notes has not stemmed the deluge of international criticism against it.
Stern listed how the IDF bombarded Gaza residents with thousands of telephone calls, leaflet drops, TV and radio messages, as well as calls to influential citizens urging them to evacuate residents, and in doing so gave the terrorist enemy detailed information about its troop movements.
"It was abundantly clear that IDF commanders had gone beyond any mandates that international law requires to avoid civilian casualties," writes Stern. He reported how Dabla attorneys have to sign off on a "target card" for each airstrike on terror targets, with the cards enumerating all of the relevant data about the planned strike.
In contrast, the Hamas "doctrine manual" captured by the IDF in the Shejaiya neighborhood early last August documents how the terror group urges its fighters to embed themselves among civilians in hopes that the IDF will kill civilians.
"Hamas's playbook calls for helping to kill its own civilians, while the IDF's playbook goes to extreme​ - ​some say inappropriate​ - ​lengths to protect innocent life in war," reads the article.
"IDF harming fight against terror"
Indeed, international legal experts quoted in the article argued that the IDF's actions do go to inappropriate measures, and may end up harming the ability to fight terrorist organizations.
Wolff Heintschel von Heinegg, a military law expert at European University Viadrina in Frankfurt, Germany, was brought by Dabla to train IDF commanders about armed conflict laws.
Heinegg was quoted saying the IDF went to "great and noble lengths" to avoid civilian casualties, but warned the IDF is taking "many more precautions than are required."
As a result, he expressed his fear that the IDF "is setting an unreasonable precedent for other democratic countries of the world who may also be fighting in asymmetric wars against brutal non-state actors who abuse these laws."
Sharing his assessment was Pnina Sharvit Baruch, a senior researcher at the Institute for National Security Studies (INSS) and former Dabla chief.
She said legal advisers from other militaries around the world confront her with "recurring claims" that the IDF "is going too far in its self-imposed restrictions intended to protect civilians, and that this may cause trouble down the line for other democratic nations fighting organized armed groups."
Michael Schmitt, director of the Stockton Center for the Study for International Law at the US Naval War College, also agreed that the IDF is creating a dangerous state of affairs that may harm the West in its fight against terrorism.
"The IDF's warnings certainly go beyond what the law requires, but they also sometimes go beyond what would be operational good sense elsewhere," he warned. 
"People are going to start thinking that the United States and other Western democracies should follow the same examples in different types of conflict. That's a real risk," said Schmitt.