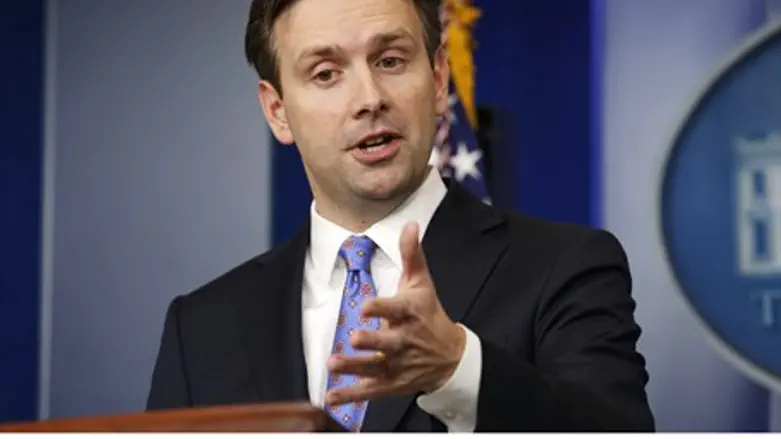 White House spokesman Josh Earnest
Reuters
The White House on Tuesday relished the US Supreme Court ruling the day before, which sided with US President Barack Obama in striking down a Congressional law calling to have Jerusalem recognized as part of Israel on American passports.
"We welcome the Supreme Court's important decision yesterday in Zivotofsky v. Kerry, which reaffirms the long-established authority of the president to recognize foreign states, their governments, and their territorial boundaries," White House press secretary Josh Earnest said in a statement.
Celebrating the powers granted to the president by the ruling, he added, "the court's decision upholds the president's long-standing authority to make these sensitive recognition determinations as part of his conduct of diplomacy and foreign policy."
The 3,000-year-old capital of the Jewish people has not been recognized as being in the sovereign territory of Israel by a US president since being liberated by the Jewish state in the 1967 Six Day War. Likewise the American Embassy is still located in Tel Aviv.
According to Earnest, the Supreme Court decision "confirms that the president's recognition determinations should be accurately reflected in official documents and sensitive diplomatic communications, including passports."
The Obama administration, like the administration of former President George W. Bush, has opposed the Congressional law which was passed in 2002 and called for US passports of citizens born in Jerusalem to list their birth country as Israel, saying by recognizing Jerusalem as part of Israel it would lose credibility as an "impartial broker" in peace talks.
Ari and Naomi Zivotofsky, the parents who years ago filed the case that the Supreme Court ruled on, told Arutz Sheva on Tuesday, "we expected the courts in the United States to be about more than politics. Perhaps the result shows that that assumption is not correct, but we thought that the legal system is unrelated to the political system."
They added, "a passport is just a symbol of the central problem here, which is very large, due to the United States not recognizing the sovereignty of the State of Israel over any part of Jerusalem."