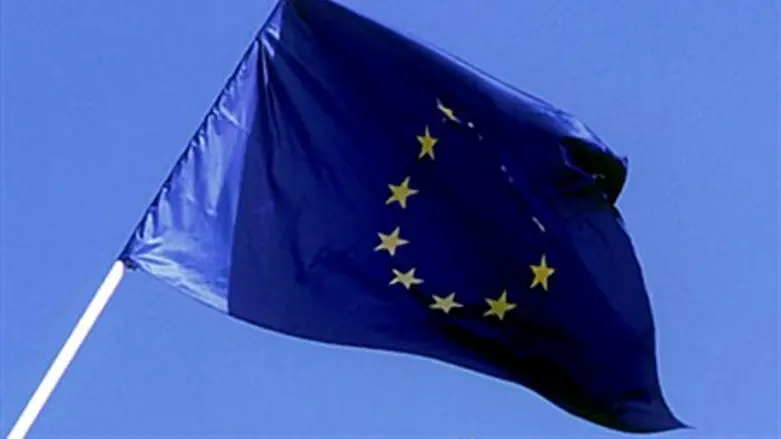 EU flag (illustration)
Flash 90
Israel has been fighting the Iran nuclear deal due to the great danger it poses, but senior Western officials have revealed it is also doing so because once a deal is reached, the European Union (EU) and UN are planning a diplomatic offensive targeting the Jewish state.
The political assault is meant to force Israel into returning to yet more peace talks with the Palestinian Authority (PA) and making dangerous concessions in the process - and reportedly the EU already has a list of sanctions ready to force Israel to bend.
A senior Western diplomat told Ma'ariv in a report published Tuesday that "a diplomatic attack against Israel is expected soon that will surprise even the pessimists in Jerusalem."
"In the (UN) Security Council, in western capitals and at EU headquarters, they are just waiting for the Iran deal to be signed and for it to be approved by the American Congress," warned the diplomatic source.
It appears that the waiting period will likely expire in September, at which time a UN General Assembly will open in tandem with the first shots of the diplomatic barrage against Israel.
Diplomatic sources familiar with Western European positions vis-a-vis Israel said the EU already has a list ready, itemizing sanctions against Israel in the fields of trade, agriculture, science and culture.
That list is to be translated into an economic assault - unless Israel presents a new set of concessions it is willing to make for a new round of peace talks, after the last set of talks was torpedoed by the PA signing a unity deal with the Hamas terrorist organization.
"S‭enior officials in Jerusalem are aware of the existence of sanctions documents at EU headquarters, some of which have even fallen into their hands," one diplomatic source revealed to Ma'ariv.
The source added that US President Barack Obama's threat made in an Israeli interview this month, according to which he may cut US support for Israel at the UN, specifically was referring to "the sanctions file" against Israel which is currently biding its time at the EU headquarters.
The US is reportedly weighing its responses, as the current Israeli government does not appear to be likely to launch a new series of peace talks after the massive failure of the last round, and the PA's unilateral moves in the international arena in breach of the 1993 Oslo Accords that founded it.
"The make-up of the government is such that no faction or minister will stand up to the lack of an initiative from Prime Minister (Binyamin) Netanyahu," a diplomat from New York told Ma'ariv. "The coming months will be difficult for Israel. This time Israel will pay a heavy price for continued stagnation. This time, it is also uncertain if Uncle Sam will succeed in saving Israel, and maybe he won't want to do so."