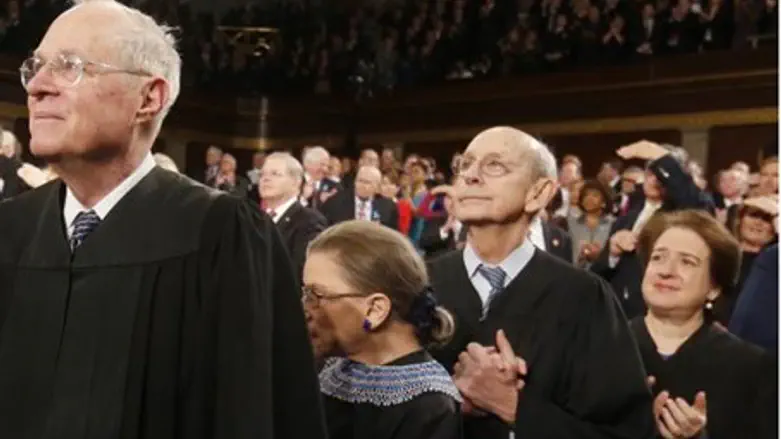 Supreme Court justices.
Reuters
The US Supreme Court decision Monday not to register US citizens who were born in Jerusalem as having been born in Israel could have future ramifications for other matters involving Israel, according to Attorney Nitzana Darshan-Leitner, head of lawfare NGO Shurat Hadin.
Besides the matter decided by the court, the central political issue at hand, Darshan-Leitner told Arutz Sheva Tuesday, is who decides things when it comes to foreign affairs – Congress or the State Department. "There is always tension between the legislative and executive branches," she explained, "and in this case, the State Department was victorious."
"This question could come up in other matters, such as American financing for the Palestinian Authority, which currently stands at about 600 million dollars," she opined. "Congress decided to limit the transfer of funds to the PA from the State Department, so that may only be transferred if there is certainty that they do not go toward terrorism. The State Department has been ignoring Congress, and when the matter reaches the courts, there will again be a debate over who decides foreign policy, the legislators or the State Department."
As for the court's decision itself, Darshan-Leitner said that it truly damages every single Israeli person: "This is a disappointment. While it is true that this is a decision that relates to the internal regime in the US, and which delimits the boundaries of the executive branch's discretion, and who decides foreign policy, one cannot ignore the actual decision, which de facto does not recognize Jerusalem as the capital of Israel – and this is a real kick in the face of every Israeli citizen, that such a great friend of Israel's does not recognize its rights."
Arutz Sheva notes that all three Jewish justices - Stephen G. Breyer, Ruth Bader Ginsburg and Ellen Kagan - voted in favor of the decision.