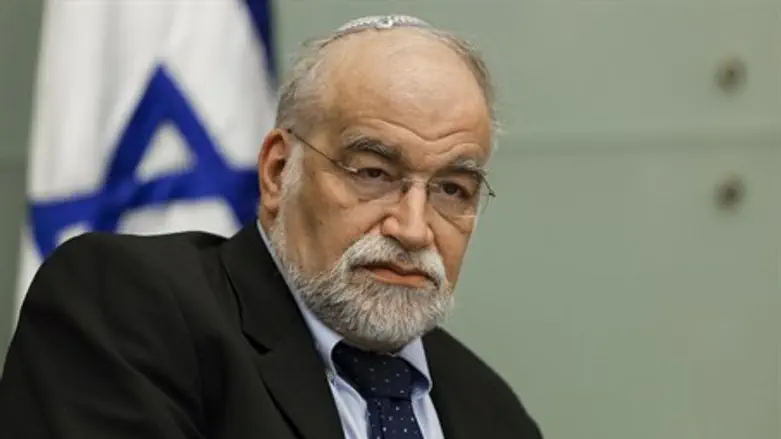 MK David Rotem
Flash 90
MKs of all political stripes offered moving tributes to former Yisrael Beytenu MK David (Dudu) Rotem upon his sudden passing on Monday afternoon. 
"I wish to send condolences to the family, acquaintances and many supporters of former MK Dudu Rotem, who served until recently as chairman of the Knesset's Constitution, Law and Justice Committee," Knesset Speaker Yuli Edelstein eulogized. 
"His untimely death hit us by surprise. I wish to strengthen his family join in their heavy sorrow. May his memory be a blessing."
Science Minister Danny Danon (Likud) said "David Rotem was a faithful man, a lover of the land of Israel who was very active in the communities of Judea and Samaria and was a Zionist to the core." 
"As chairman of the Constitution, Law and Justice Committee, he led the committee for two terms with responsibility, dedication, and a sense of public mission. His experience and wisdom will be missed by all of us."
Close confidante, Yisrael Beytenu chairman Avigdor Liberman, also eulogized the respected politician who served in the 17th, 18th, and 19th Knessets before retiring several months ago. 
"Dudu Rotem was not only a political friend but a personal friend. A man of the Land of Israel who knew how to fight for the country and for his views; a man unafraid of standing his ground and struggling in order to promote the things he believed in."
"As chairman of the Constitution, Law and Justice Committee," Liberman continued, "he contributed greatly to the State of Israel, the Knesset, and Yisrael Beytenu. His death is a great loss and a great sorrow to all his friends. I join in the sorrow of his family."
Deputy Defense Minister, Rabbi Eli Ben-Dahan (Jewish Home), said he "received the news of Dudu's death with amazement. I never thought we'd have to part so soon. I met him some thirty years ago when he was legal adviser for the Yesha Council."
"Dudu's great love of Israel and the Torah guided every single action he has made since, and in the Knesset. We will remember Dudu as the eternal chairman of the Constitution, Law and Justice Committee, where he promoted Jewish legislation in the Israeli Knesset."
MK Uri Maklev (UTJ) also praised Rotem, stating he had a "big heart and was compassionate. He was man of talent who did much for the individual. He loved and appreciated scholars and did much to honor his father's activities to spread the world of Torah in Israel."
Opposition leader and Zionist Union chairman Yitzhak Herzog declared "Dudu was an MK who could talk and argue about everything - politics and many other field. I'm sorry for this great loss and wish his family to know no more sorrow."
MK Tzipi Livni (Zionist Union) also expressed her condolences of Rotem's passing. 
"Rotem was chairman of the Constitution, Law and Justice Committee when I served as justice minister. He was an active and committed chairman, who fought to advance his world view," Livni proclaimed.  
"When we promoted common things and even when we disputed, he was always honest and decent. May his memory be a blessing."