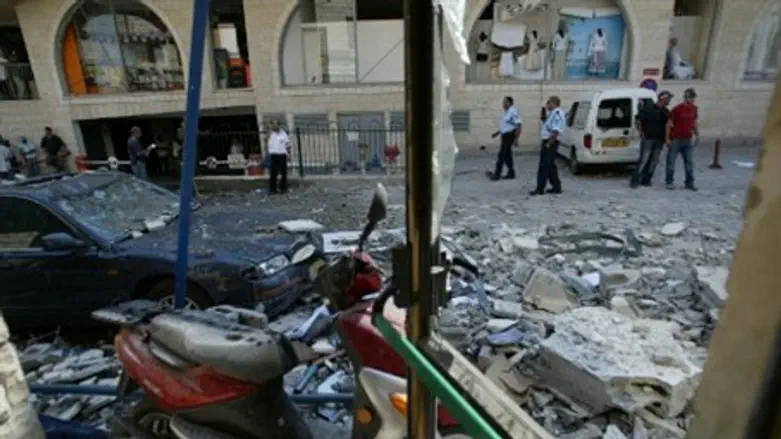 Aftermath of Hezbollah missile attack on Tzfa
Israel news photo: Flash 90
Security forces are currently rehearsing and preparing for a scenario in which Israel's enemies launch a "carpet" missile attack that Iron Dome will be unable to counter, due to the sheer number of missiles involved, Arutz Sheva has learned from knowledgeable sources that wish to remain anonymous.
In this scenario, up to 4,000 Israelis will be killed in the first days of the attack, which could happen as early as this summer.
"Iran is seeking to cover Israel with intense fire," Prime Minister Binyamin Netanyahu warned in a special briefing for journalists at the week's end.
"In Lebanon, the Iranians are inserting the most advanced weapons in the world, and strengthening Hezbollah, so that it can hit any spot in Israel," Netanyahu was quoted as saying in the daily Makor Rishon. "They are trying to build a second front in the Golan, and of course, in Gaza."
'Earth-shaking shock' 
Former prime minister and defense minister Ehud Barak also sounded dire warnings last week, regarding Hezbollah's ability to deal a heavy blow to Israel, and Israel's unpreparedness for this.
"Our rival is serious, and we have no room for smugness on any front," he said. "We must not be smug and take our superiority as something that is self-evident and supposedly God-given. Superiority is the result of serious work. We have not really dealt with 100,000 rockets, and we have not started to deal with the matter of their accuracy. When the rockets are accurate, it is not more of the same thing. It is something completely different."
"The country has no choice but to reach conclusions," Barak warned. "One cannot deal with this challenge by deploying in all of the places, from which [anti-missile] missiles can be fired. These things are very expensive: Iron Dome and Magic Wand, Arrow and Super-Arrow are expensive projects.
"One cannot exaggerate the importance of safeguarding security," he added, "and one cannot exaggerate the earth-shaking shock that can take place when it turns out that we did not prepare and we did not understand the urgency and practicality of challenges of this sort, and the need to translate clear thought to conclusions, and we will find ourselves [in a situation where] citizens suddenly discover that one cannot walk slowly and lackadaisically to the bomb shelters, knowing that nothing can happen, as we did in during Operation Protective Edge. These things must be done now, we must not wait."