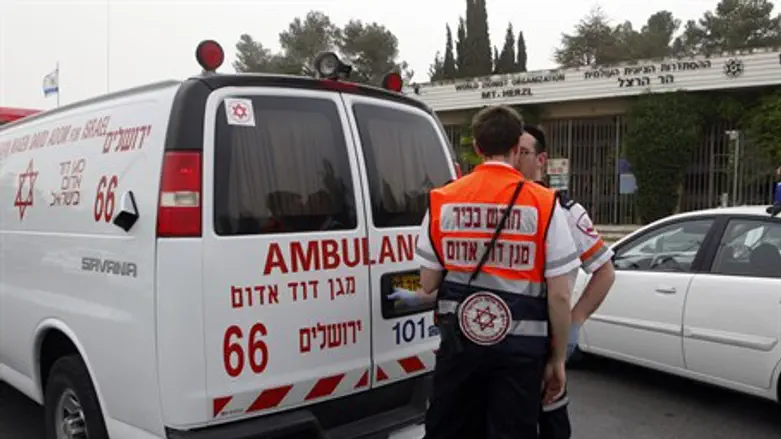 Ambulance (illustrative)
Uri Lenz/Flash 90
A 26 year-old woman was stabbed in the back with a screwdriver in Ramle on Sunday afternoon, and has been evacuated to Assaf HaRofeh hospital in Tzrifin in moderate condition. 
Israel Police officers called to the scene pursued the suspect and shot him after he attempted to stab police.
The suspect, a 20 year-old Arab man, was seriously wounded from police gunfire in his limbs. He has also been transferred to Assaf HaRofeh for treatment. 
"At this stage it is unclear whether the incident was criminal or a terror attack," a police officer at the scene stated to Channel 2 shortly after the attack. "Police saw the incident and told the suspect to stop, and he began to run toward them brandishing weapons [...] the police had no choice but to neutralize him." 
Magen David Adom (MDA) medics at the scene described the incident to Arutz Sheva.
"We found sitting on the sidewalk a young girl of, fully conscious, with a stab wound in her upper body, she was in pain and had difficulty breathing," Hillel and Aryeh Meyers said. "She told us that while she was walking on the street, she felt a strong blow back; she then sat down and police officers arrived at the scene and alerted us to her." 
"We gave her medical treatment - including pain medication, dressing the wound, an IV line and oxygen and evacuated her to hospital; he condition was moderate."