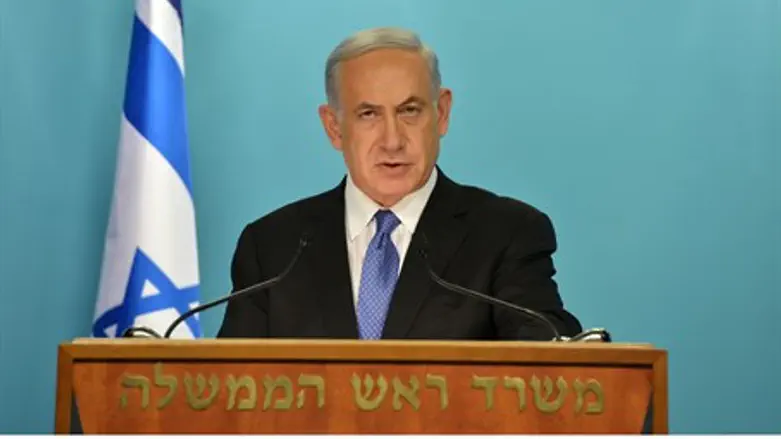 Prime Minister Binyamin Netanyahu
Kobi Gidon/GPO
Prime Minister Binyamin Netanyahu condemned the international silence on the resumption of rocket fire from Gaza on Sunday, opening his weekly Cabinet meeting with strong words about hypocrisy.
"Israel holds Hamas responsible for all fire from Gaza into our territory," Netanyahu said, referring to the fact that Hamas has shifted blame for recent rocket fire on Salafist groups. 
''I did not hear anyone in the international community condemn the rocket fire and the UN did not speak," he added. "I wonder if the silence continues even when we use our full power to exert our right to defend ourselves." 
"Let it be clear - this hypocrisy which pervades the world will not tie our hands for defending the citizens of Israel," he warned. "So we have acted before and continue to act." 
One rocket struck a field outside Ashkelon on Saturday night, causing no injuries or damage. A Salafist group from within Gaza claimed responsibility for the attack. 
The IAF retaliated overnight Saturday/Sunday by eliminating several terror targets.