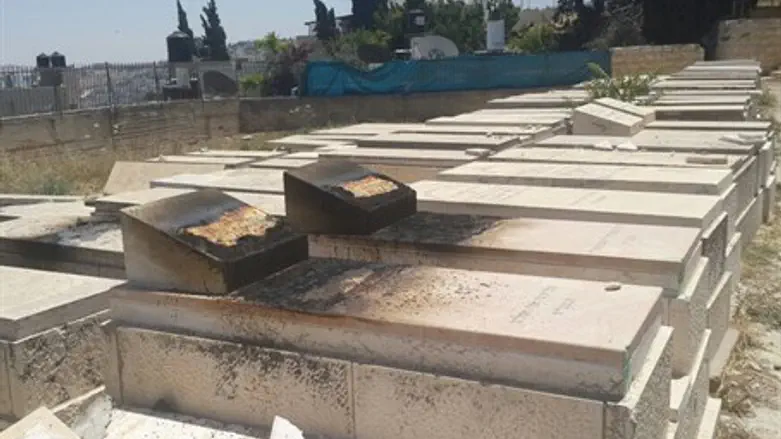 Torched gravestones on Mount of Olives
Council of Cemeteries in Jerusalem
Rock and firebomb terror attacks against the Mount of Olives Cemetery in eastern Jerusalem continue unabated, with the Arab assailants just recently destroying a massive number of gravestones and even torching a portion of them as the ongoing vandalism spins out of control.
The Ministry for Religious Affairs expressed its shock at how security forces have abandoned the site to Arab vandals, with sources in the ministry telling Arutz Sheva that Jews wishing to visit the graves of their dear ones are afraid for their own safety.
Responsibility for securing the cemetery is supposed to rest with the police, the sources said, noting "we welcomed how two years ago a police checkpoint was opened at the site, but it has become clear that that still hasn't helped."
Making the lapse in security all the more serious is the fact that the Mount of Olives Cemetery is said to be the oldest cemetery still in use in the entire world, adding greater impetus to the desire to preserve it.
Rabbi Hillel Horowitz, director of the Council of Cemeteries in Jerusalem, told Arutz Sheva that "it's important to emphasize that the Mount is open and safe for visitors throughout the day, and the vandalism is only committed at local and lone weak points located on the eastern edge of the Mount."
However, he noted that "it's infuriating that in those regions that's the situation. There's no punishment, there's no deterrence, and there's no control."
The rabbi recalled how he asked the Jerusalem district police on several occasions to place fixed stations at the cemetery, but was told that the police are unable to do that and that the establishment of guard posts falls under the jurisdiction of the IDF.
In response to the report, the Jerusalem district police said in a statement that "a security team of the Ministry of Construction and Housing that is active in the cemetery compound on the Mount of Olives reported to the police of the damage caused to the gravestones and an investigation was launched."
credit: מועצת בתי העלמין בירושלים
credit: מועצת בתי העלמין בירושלים
credit: מועצת בתי העלמין בירושלים
credit: מועצת בתי העלמין בירושלים
credit: מועצת בתי העלמין בירושלים
credit: מועצת בתי העלמין בירושלים
credit: מועצת בתי העלמין בירושלים
credit: מועצת בתי העלמין בירושלים
credit: מועצת בתי העלמין בירושלים
credit: מועצת בתי העלמין בירושלים
credit: מועצת בתי העלמין בירושלים
credit: מועצת בתי העלמין בירושלים
credit: מועצת בתי העלמין בירושלים