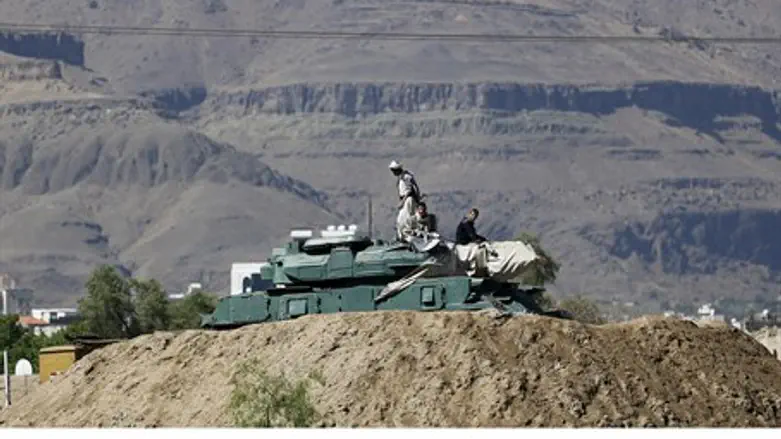 Houthi fighters sit on a tank in Yemen
Reuters
A senior official from Yemen's Houthi group on Thursday said the movement will attend UN-backed peace talks in Geneva without preconditions, Reuters reported.
The talks are planned for June 14.
"The group will participate in the Geneva talks and it supports without preconditions the efforts of the United Nations to organize Yemeni-Yemeni dialogue," Daifallah al-Shami, a senior Houthi official, told Reuters.
The Geneva conference had been due to take place on May 28 but was postponed after the UN failed to persuade the warring parties to attend, despite the fact that Houthi leader Abdul-Malek al-Houthi had originally agreed to the talks.
A Saudi Arabian-led alliance began launching airstrikes on the Houthi rebels on March 26, aimed at restoring exiled Yemeni President Abed Rabbo Mansour Hadi, who fled Yemen earlier this year to seek refuge in Riyadh as the militia captured parts of the country.
Iran backs the Houthi movement, and it is believed it is planning to use them  to take over Yemen and seize the key strategic port of Aden, which controls the entrance to the Red Sea and ultimately to the Israeli resort city of Eilat.
This week it was reported that an American ambassador has held talks with Yemen's Houthi militia in Oman.
Washington's top diplomat for the Near East, Anne Patterson, had a number of meetings in Oman with parties involved in the Yemen conflict "including with representatives of the Houthi," State Department spokeswoman Marie Harf confirmed.
The meeting with the Houthis aimed to "reinforce our view that there can only be a political solution to the conflict in Yemen and that all parties including the Houthi" should participate in "the UN-led political process," Harf said.