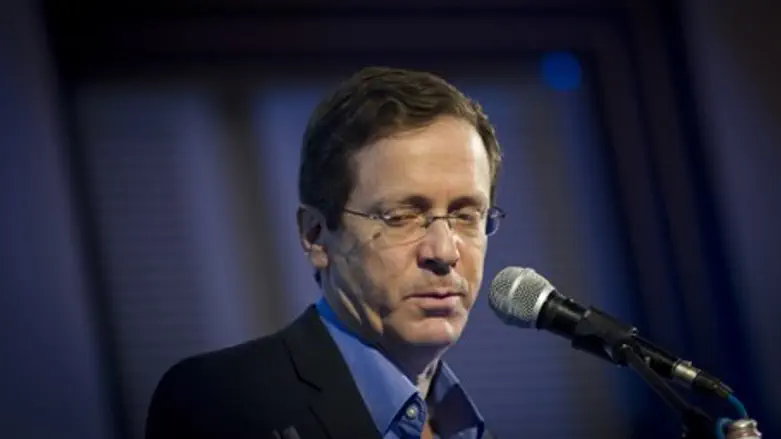 Yitzhak Herzog
Miriam Alster/Flash 90
An attempt by Zionist Camp chairman Yitzhak Herzog to slam Prime Minister Binyamin Netanyahu in front of what he thought was a sympathetic audience backfired – sending 'Buji,' as he is known, "back to the dugout" with a series of catcalls and boos.
Herzog's comeuppance came Thursday morning in Eilat, where he was attending a gathering of attorneys. The conference, called "the District Gathering," is seen as an alternative to the "official" annual convention of the Israel Lawyers Guild. Among the attendees at the event, besides Herzog, were Attorney General Yehuda Weinstein, State Attorney Shai Nitzan, National Police Commander Yohanan Danino, and others.
In his remarks, Herzog tread his well-known, and well-worn, diatribe against Netanyahu. Discussing the boycott campaigns against Israel – with the latest "member" the international Orange cellphone service organization – Herzog said that Israel needed to "fight these efforts to boycott us with all our might. The BDS movement is anti-Semitic terror of a new type."
But Israel was being stymied in its efforts, said Herzog – thanks to the Prime Minister. "We cannot ignore that with his harsh actions and statements, our head of state Binyamin Netanyahu is aggravating and strengthening these boycott trends. Netanyahu screams 'anti-Semitism' without taking responsibility for his actions, and without trying to build a coalition and devise a strategy to fight the boycott," said Herzog. "You can't just scream about the situation and expect it to be resolved. To quote former Prime Minister Yitzhak Rabin, being a 'crybaby' is no way to run a country, and that is our problem today."
The comments set off a firestorm in the auditorium, with listeners raising their voices, demanding that Herzog step down from the podium. Participants were heard to say that Herzog was being very unfair to Netanyahu, blaming the BDS movement on him, when boycotters make no secret of their belief that Israel is an illegitimate state that "needs" to be boycotted – and would be even if it were to withdraw to the 1949 Armistice Lines.
One veteran attendee said that Herzog had no business invoking Rabin's legacy. "It's 'chutzpah' (arrogance) for him to put himself in the same category as Rabin," the attendee said. "I knew Yitzhak Rabin, and Herzog is no Rabin."