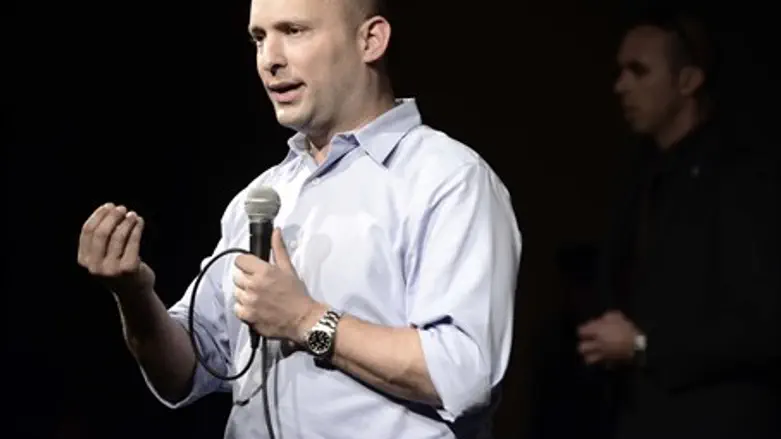 Jewish Home party leader Naftali Bennett
Tomer Neuberg/Flash 90
Education Minister Naftali Bennett urged Israelis not to drop their service with Orange, despite remarks by world Orange CEO Stephane Richard that he would end the company's franchise contract with Israel's Partner Communications "tomorrow" if he could get away with it.
According to Bennett, Partner is a victim, not a perpetrator.
"Partner is a purely Israeli company with 3,500 employees here. All of the infrastructure, including towers, customer service, etc., belong to it. The only relationship Partner has with world Orange is the licensing of its name."
In Israel, Orange is represented by Partner Communications, and Israeli-Chinese owned firm that franchises the name Orange.
The Israeli company is completely independent of world Orange, company CEO Haim Romano said in response Wednesday to worried customers who flooded its phone centers with calls, seeking to find out if the company was dropping them as customers.
"We want to terminate this and fix this, we don't want it," Richard said at a press conference in Cairo. "In the existing contract, it gives us the option to terminate this without exposing this to a huge financial risk. If you were the CEO of this company you would act the same."
The only reason Orange has not terminated its franchise contract with Partner – from which, Richard said, "we make very little money" - was to avoid litigation in Israeli courts.
"Sorry to say, but a dispute with Partner when you have zero legal position in Israeli courts is not something that I would recommend for my company. I am not going to pay hundreds of millions of euros only because I would have (to) take a risk, a huge risk, in terms of the penalties that we could have if we entered into this kind of brutal process."
Bennett said the government was discussing ways to deal with Richard's comments. "Whatever is done, it will be in regard to world Orange. Partner is not responsible, and the mass cancellation of subscriptions would just punish fellow Israelis."
One action Bennett said might be taken is a lawsuit by Partner against Orange for trying to ruin its business in Israel.
"It is time we fight back against these boycotters. I am working on this, to end the situation where Israel is attacked without consequences for the attacker. Right now, however, my objective is to prevent damage to the Israeli workers and their families."
Romano, who said that he was fearful of a backlash among Israeli consumers against the Orange brand, said that his company had "almost nothing" to do with world Orange, other than to license its name.
"We just recently renewed the contract, which is good for ten years. I was sorry to hear about Richard's comments, if indeed that is what he said. We reject these comments, and we intend to continue providing good service to Israelis," he added.