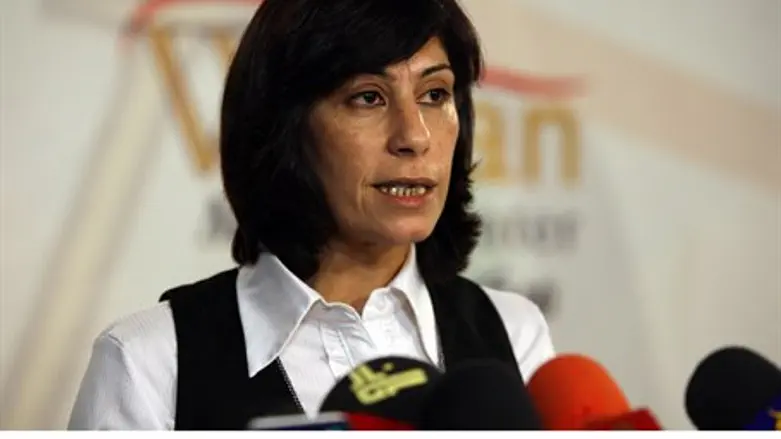 PFLP MP Khalida Jarrar
Issam Rimawi/Flash 90
Khalida Jarrar, an MP on the Palestinian Legislative Council (PLC) who was arrested for terrorism charges, and had been ordered to be released two weeks ago, will remain in jail. Based on new evidence, a military court judge has canceled her release as the case against her continues.
The Arab NGO Addameer told the Palestinian Arab Ma'an News Agency on Tuesday that last Thursday the judge reversed the ruling, recognizing the MP as a security risk based on evidence that was not publicly released due to its sensitive nature.
Two weeks ago, when her release was ordered after apparently insufficient evidence was presented, the IDF said it had incriminating testimony proving Jarrar was guilty, noting she was retaining her right to remain silent. That testimony likely is what caused the judge to rethink the threat posed by the MP.
Jarrar is a senior member of the Socialist Palestinian Arab terrorist organization Popular Front for the Liberation of Palestine (PFLP).
Last August, she was served an order banning her from her home in Ramallah over security threats, but she disobeyed the order and was arrested on April 1. An administrative detention order was placed on her for six months, in parallel to her ongoing investigation.
She was accused of 12 security crimes, including those revolving around her senior role in the banned PFLP terrorist group, as well as inciting to abduct IDF soldiers so as to negotiate the release of jailed Arab terrorists.
Among the terrorists she sought to free was Ahmad Sa'adat, the leader of PFLP, who was sentenced to 30 years in jail in 2008 for heading the terrorist group.
Sa'adat was accused of planning the 2001 assassination of Tourism Minister Rehavam "Gandhi" Ze'evi, which was committed by four PFLP terrorists in Jerusalem; the Palestinian Authority (PA) has lauded Sa'adat on numerous occasions for the murder.