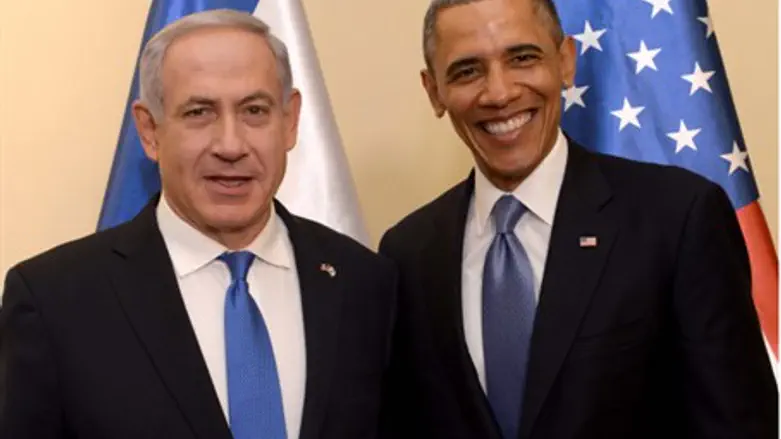 PM Netanyahu & President Obama
Flash 90
United States defense aid to Israel is likely to increase after 2017, sources on both sides told Reuters on Thursday, seeing a possible link to Washington's efforts to assuage Israel's fears over nuclear diplomacy with Iran.
A current package worth $3 billion a year expires in 2017. A U.S. official, speaking to Reuters on condition of anonymity, said negotiators were close to a new deal that would bring annual payouts to $3.6-$3.7 billion on average.
An Israeli official, who also declined to be named, put the expected aid at between $3.5 billion and $4 billion.
"They (the United States) are trying to douse the fires after our flare-up about the Iran deal," the Israeli official added, referring to curbs being negotiated on Tehran's disputed nuclear program.
Responding to the Reuters report that an increased defense aid package was in the works, Prime Minister Binyamin Netanyahu confirmed there were such discussions with the Americans but said he would keep campaigning against Iran.
"There is no trade-off requiring I agree to this (nuclear) deal with Iran. The deal is bad and we will continue to oppose it," Netanyahu said.
The Pentagon had no immediate comment on the report.
The previous administration in Washington signed a 10-year deal with Israel in 2007 giving it $30 billion, most of which must be spent on American military products.
During his visit to Israel in 2013, President Barack Obama said that Israel and the United States were opening talks on extending U.S. military aid beyond 2017.
"As part of our long-term commitment to Israel's security, the prime minister and I agreed to begin discussions on extending military assistance to Israel," Obama told reporters at the time.
"Our current agreement lasts through 2017, and we've directed our teams to start working on extending it for the years beyond," he added.
Last week it was reported that the United States would sell thousands of bombs and missiles to Israel in a deal worth about $1.9 billion. This deal is in addition to a deal that would see 10 Seahawk helicopters being sold to Saudi Arabia.