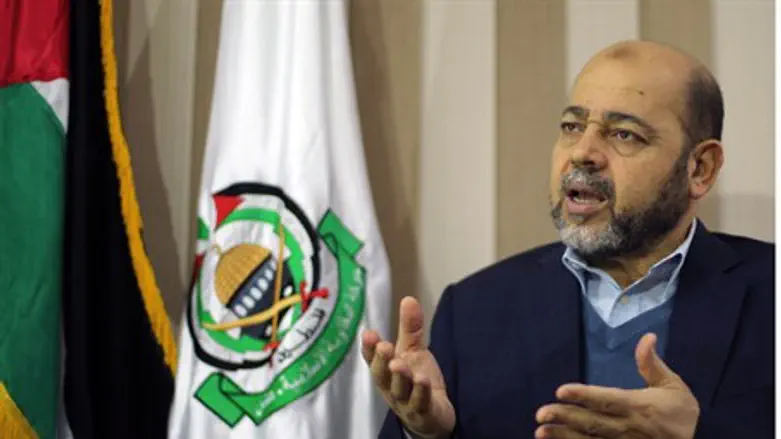 Hamas terror chief Moussa Abu Marzouk
Reuters
Senior Hamas official Moussa Abu Marzouk has announced that he is ending his self-imposed exile and moving permanently to Gaza, according to the Associated Press.
The move is being seen as a further indication of a shift in Hamas's power base from surrounding Arab countries including Qatar and Egypt - where Abu Marzouk was most recently based.
He told AP that he was in "good health" after undergoing heart surgery in Qatar, a key ally of Hamas and still the base of the terrorist movement's most senior leader outside of Gaza, Khaled Mashaal.
Abu Marzouk said he was planning on "staying in Gaza for good." According to AP he has already been spending "months at a time" in the Hamas-held coastal enclave in recent years.
In moving to Gaza he will join other senior Hamas leaders including Ismail Haniyeh, Hamas's self-proclaimed "prime minister" of Gaza.
But other leading Hamas figures remain outside of Gaza. Apart from Mashaal, several senior commanders are currently based in Turkey, including Salal al-Arouri, the terrorist mastermind responsible for a number of high profile attacks and attempted terrorist attacks, including the kidnap and murder of three Israeli teenagers last summer - a crime he openly boasted of months afterwards.
In recent years, Hamas has found itself in an awkward situation politically. 
Its relationship with Iran has been strained - at times even partially severed - due to the Sunni Islamist group's lack of support for the Iranian-backed Assad regime in Syria. In addition, pressure by Gulf State on Qatar to cut all ties with the Muslim Brotherhood - of which Hamas is an offshoot - has placed pressure on its leadership there.
Egypt, where Abu Marzouk has been based since 2012, has also turned against the Brotherhood and Hamas since the ouster of Islamist president Mohammed Morsi - a factor which likely figured significantly in motivating Abu Marzouk's departure from Cairo.