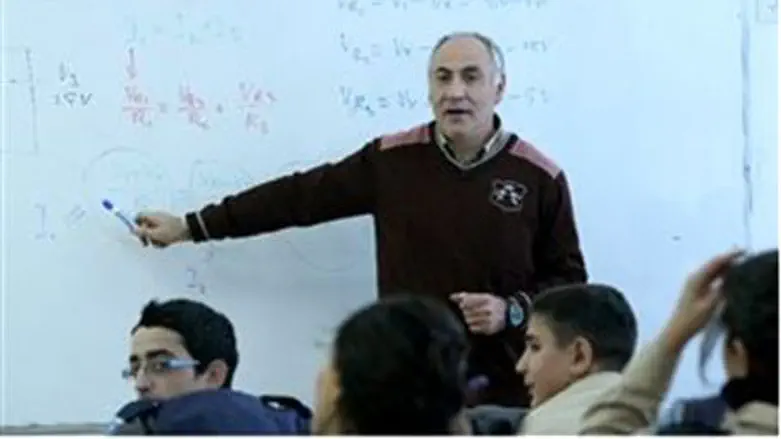 High school classroom (illustrative)
Israel news photo: Flash 90
Ethiopian Israelis are not well-integrated into the education system, according to a report released Wednesday, and are less likely to finish their matriculation exams (bagruyot) than members of other communities. 
The report, a study held two months ago by a doctoral student of Ethiopian origin, Vabit Varno-Mangesto, and Prof. Gabi Horenczyk, an expert in immigration from the School of Education at Hebrew University, is the first of its kind to examine the disconnect between students of Ethiopian origin and the school system. 
The study found that dropout rates of Ethiopian youth are significantly higher than students who are not Ethiopian, according to Walla! News. 
In 2013, 43,727 children and youth of Ethiopian origin were registered in the school system, of whom 14,087 were born in Ethiopia, according to the Ministry of Education.
Of those, 917 were in special education, 3,087 were in special rehabilitative agricultural-based schools in Kibbutzes and moshavs, and 579 were not in the formal education system and being educated through special programs for the advancement of at-risk youth.
In 2010, 2,230 Ethiopian Israelis studied in Grade 12; the majority (85%) took matriculation exams, but only 36% met the requirements and merited a matriculation certificate (i.e. a High School diploma - ed.). By comparison, 54% of Israelis overall in the Jewish school system in Israel finish with a diploma on time. 
Recent years have seen some improvement, Walla! News noted Wednesday, but it is difficult to see exact numbers, as several of the students from 2013 onward have stayed behind a year (or two) and remain in the school system. 
Overall, the report concludes, Ethiopian Israelis are found to be at a "disconnect" from the school system, with a high dropout rate or a high tendency for students to miss large portions of the school year without the school or the Ministry of Education intervening. Both researchers point to cultural differences immigrants face - even second-generation immigrants - as the culprit, including language barriers, parents who struggle with Hebrew, and the weakening of the family as a support system as a result. 
Many children are sent to boarding schools and this caused two negative phenomena - severing parental supervision and forming a social group with Israeli youth who are sent away due to academic problems, family problems, or financial hardship. 
However, research shows that more than any of these reasons, Ethiopian Israelis feel a sense of discrimination against them, both on the personal and collective level, and that this is the prime cause for students of Ethiopian origin "falling through the cracks" of the education system. 
The study polled 374 Ethiopian Israelis between the ages of 14 and 15 and included 30 personal interviews. 
The findings surface as Ethiopian Israeli issues bubble to the surface of public consciousness in Israel, following the brutal beating of an Ethiopian Israeli soldier by two Israel Police officers in Holon last month. The beating has sparked a series of massive protests nationwide and focused media attention on the community's issues.