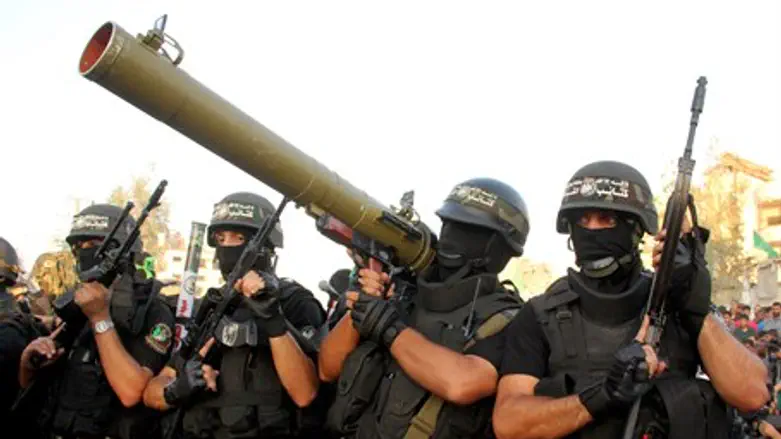 Hamas terrorists in Gaza (file)
Flash 90
After rockets were fired by Gazan terrorists at Israel on Tuesday night, with a grad rocket striking just outside of Ashdod, the Hamas terrorist organization that controls Gaza is evacuating in fear of an IDF airstrike response.
Hamas's media channels reported that the terror group has started evacuating all of its "security headquarters," with the evacuation likely to last until the morning according to Yedioth Aharonot.
Palestinian Arab news sources reported that Hamas's interior ministry ordered the evacuation of Hamas military sites and headquarters.
Apparently Hamas has good reason to fear; an Israeli military source said Tuesday night that Israel views Hamas as responsible for the rocket fire that came from territory under its control.
The source said that Israel holds Hamas responsible for all terror activity that is conducted in Gaza.
The appraisal apparently is that Hamas didn't itself fire the rockets, but that other terror sources in Gaza did instead. 
Sources in the Hamas stronghold told Walla! that the Islamic Jihad terror group was likely behind the strike, citing internal tensions as causing the move out of an apparent desire to instigate an Israeli reprisal to harm competitors.