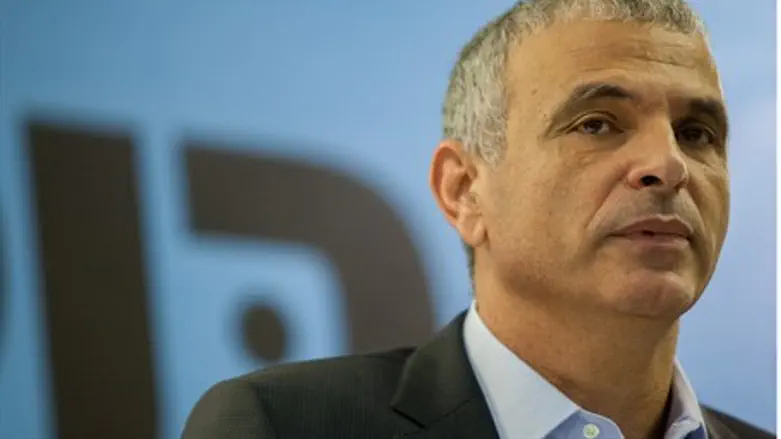 Moshe Kahlon
Ben Kelmer/Flash 90
Finance Minister Moshe Kahlon (Kulanu) will be excluded from the decision-making process on the ownership of the state's natural gas finds, his office said Tuesday.
The ministry said Kahlon had himself decided to stay out of the process due to his friendship with Koby Maimon, one of the partners in the Tamar offshore gas field.
The announcement comes a day after antitrust commissioner David Gilo resigned over his opposition to the dominant position of US giant Noble Energy and its Israeli partner Delek in the Leviathan and Tamar offshore gas fields.
Gilo, who had late last year threatened to declare the partnership a cartel, said Monday that preserving the stranglehold of Noble and Delek on the natural gas market "undermines competition."
A committee led by officials from Prime Minister Binyamin Netanyahu's office has reportedly proposed that Delek sells its shares in Tamar while Noble reduces its holdings in that field, disregarding Gilo's position.
Kahlon had prior to the March 17 general election pledged to "dismantle the monopoly," saying his friendship with Maimon would not get in the way.
Maimon's Isramco owns over a quarter of Tamar.
The finance ministry stressed Kahlon still "supports dismantling the gas monopoly and opening the market to competition," while noting he had transferred his powers on the issue to Netanyahu's office.
Netanyahu on Tuesday defended the impending gas arrangement, saying Israel would "not repeat mistakes other countries made seeking ideal solutions for their gas" which left them undeveloped.
"We will act in accordance with a prudent consideration that balances competition and worthwhileness and extracts the gas from the depths of the sea," Netanyahu told his cabinet.
Newly appointed Energy Minister Yuval Steinitz (Likud) stressed at an energy conference on Tuesday the "urgency to reach decisions now, to enable immediate investments."
The development of Leviathan, which according to preliminary agreements is to supply gas to Jordan, Egypt and the Palestinian Authority (PA), has been frozen since Gilo's December decision to not approve the deal that gave the Noble and Delek control over Leviathan.
Critics of the emerging deal say it neither breaks up the monopoly nor affords a mechanism to supervise gas prices to Israeli clients.
"Israel is willingly giving itself away to full control of tycoons, dismantling and humiliating its regulators, and announcing the sky is the limit for prices," said Labor MK Shelly Yechimovich.
The size of the Leviathan field is estimated at 18.9 trillion cubic feet (535 billion cubic meters, or bcm) of natural gas, along with 34.1 million barrels of condensate, making it the largest gas deposit found in the world in a decade.
The Tamar field, which holds 250 bcm of natural gas, lies 80 kilometers (43 nautical miles) west of the northern Israeli port city of Haifa.