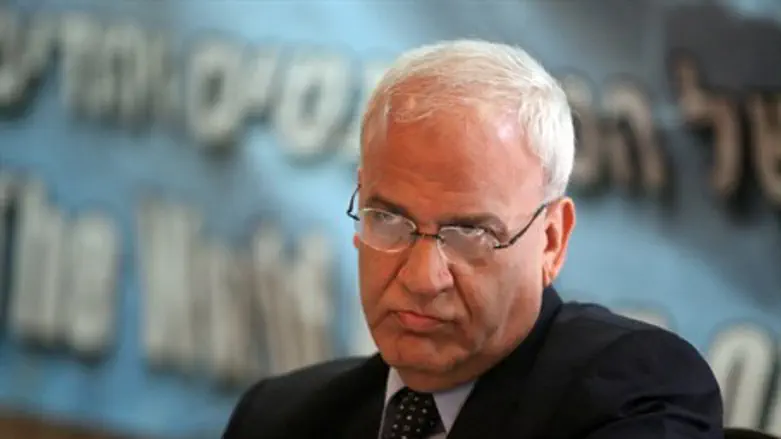 Saeb Erekat
Flash 90
The Palestinian Authority (PA) on Tuesday angrily dismissed reported remarks by Prime Minister Binyamin Netanyahu that he would like to restart "peace talks" to negotiate the boundaries of "settlement blocs" in Judea and Samaria.
"An Israeli source" briefed on last week's meeting with EU foreign policy chief Federica Mogherini was quoted in Haaretz on Tuesday as saying that Netanyahu wants to resume talks with the PA, with his goal being to reach understandings on the borders of "settlement blocs" that Israel would annex under any peace agreement.
"The prime minister explained that in this way, it would be clear what parts of the West Bank Israel could continue building in," the newspaper reported.
PA chief negotiator Saeb Erekat told AFP the concept was "completely unacceptable," saying, "Netanyahu's proposal to discuss the borders of settlement blocs is an attempt to legitimize the settlements."
"The borders that should be set are the borders of the internationally recognized state of Palestine based on 1967 borders. Settlements should be stopped instead of being legitimized," added Erekat. 
Despite his comments, far from being internationally recognized borders the "1967 borders" - actually the 1949 Armistice lines - are simply where the fighting stopped in the War of Independence, with international agreements at the time stipulating the line was not to be the basis for any future borders.
Ironically Netanyahu has already stopped construction in Judea and Samaria as Erekat demanded occur, with all Jewish building in the region being frozen with almost no break since the last round of peace talks started in late 2013.
Erekat was not alone in criticizing the report of Netanyahu's willingness to negotiate; senior Palestine Liberation Organization (PLO) official Hanan Ashrawi said the plan attributed to Netanyahu was "a disingenuous and manipulative exercise in political and legal deception."
"All settlements are illegal and in flagrant contravention of international law and consensus, and any efforts to annex and to legalize the settlements blocs is a blatant attempt to steal more Palestinian land," she said in a statement.
In fact, the 2012 Levy report, which was commissioned by Netanyahu's government but is yet to be implemented, proved how Israel's presence in Judea and Samaria is entirely legal according to international law.