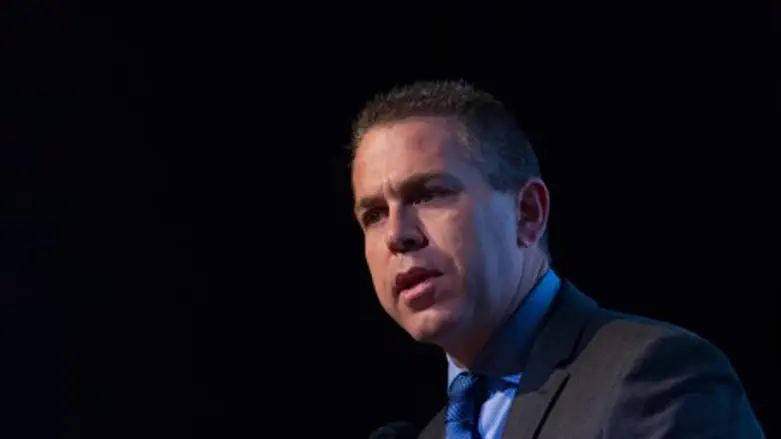 Interior Minister Gilad Erdan
Miriam Alster/Flash 90
New details have emerged on Tuesday morning over the plans and appointment of Internal Security Minister Gilad Erdan (Likud), who was sworn in to the government late Monday night after a full week of negotiations with Prime Minister Binyamin Netanyahu. 
Erdan has also been appointed Minister of Strategic Affairs and Minister of Hasbarah (Public information/PR), replacing former ministers Yitzhak Aharonovich (as Internal Security) and Yuval Steinitz (as Minister of Strategic Affairs). 
According to the agreements between Erdan and Netanyahu, the Internal Security Ministry will receive a 500,000 shekel ($128,891) yearly budget. The sum has already been approved by Finance Minister Moshe Kahlon (Kulanu) and the Budget Division. 
Within that budget, Erdan has proposed a number of programs, according to Walla! News, including: 
Increasing Israel Police presence in the Arab sector, following the rapid rise in rioting and violence in Jerusalem and up North labelled as the "silent intifada";
launching a pilot program to increase Israel Police presence in general in 'problem areas' (most likely areas of Jerusalem for terror-related reasons, and specific regions in central and southern Israel to fight organized crime - ed.);
constructing new police stations;
investing further into seizing terrorists' weapons caches;
and fighting Israel's high traffic accident rate. 
Channel 2 adds Tuesday morning that Erdan is also responsible for appointing a new Police Commissioner and the new head of Israeli Prison Services (IPS).
Expectations for a replacement for current Commissioner Yohanan Danino are high, as Danino's term has been regarded as an unparalleled disaster - as violence in Jerusalem ran rampant over several months and after multiple sexual assault and other scandals have been uncovered in the upper echelons of the Israel Police during his tenure. 
Meanwhile, IPS officials are urging Erdan to appoint someone from within IPS instead of an outside administrator, as has been done in the past. To that end, IPS officials are planning to meet with Attorney General Yehuda Weinstein and State Prosecutor Shai Nitzan to request that the law be changed to mandate appointments within the bureau. 
In addition, as Hasbarah Minister, Erdan will be given 100,000,000 shekels ($25.7M) in his first year of office exclusively for coordinating international events to counter the Boycott, Divestment, and Sanctions (BDS) movement against Israel. 
"I see the two ministries and the two issues as a tremendous challenge and an opportunity to make changes that the country needs," Erdan stated to Walla! in the early hours of Tuesday morning. Technically, the Hasbarah Ministry is a subsection of Strategic Affairs.