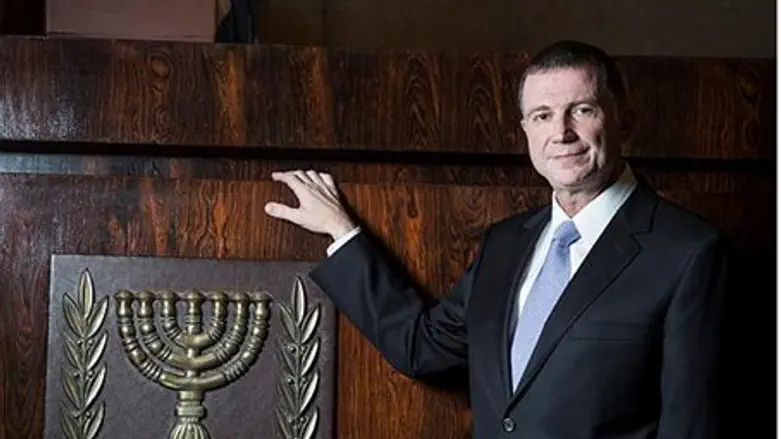 MK Edelstein
Hadas Parush, Flash 90
Knesset Speaker Yuli Edelstein (Likud) said Monday that he doubts Prime Minister Binyamin Netanyahu's present government can survive for more than a year unless it is expanded.
"There is an obvious paradox when it comes to this coalition," he said in an interview with Al Monitor. "During its initial stage, and I don't know how to define that period exactly — one month, two months, until the end of the summer session — it will be a very strong coalition, because no one has the privilege to say, 'I'm against something, and it's a matter of principle. You'll have to make do without me.' During this stage, every Knesset member, including every backbencher, knows that he has the exact same responsibility as the prime minister. This means that the coalition will be strong at first and not lose any votes on the Knesset floor. Everything will be fine and dandy."
Over time, however, he said, problems will begin, as MKs "start gaining confidence."
"We are already seeing how the opposition has started to home in on certain Knesset members from the coalition," he noted. "Even at this early stage, they have started to apply pressure on them. While the Ethiopian community was demonstrating, some members of the opposition were approaching Knesset member Avraham Negusie of the Likud, saying, 'Avraham Negusie, you know that you now have a chance to save your community - say that you will not support the government unless 2 billion shekels are allocated immediately to meet your community's needs.'
"This time it will be Negusie. Next time it will be someone from the camp of Kahlon, and then after that it will be the ultra-Orthodox. They will always home in on someone or something."
Netanyahu has two options, Edelstein told Al Monitor. One is adding the Zionist Union (Labor and Hatnua) to the Coalition – but "they have distanced themselves from the government over the past few days and will likely distance themselves even further." The second option is adding former Foreign Minister Avigdor Liberman to the coalition.
"On the other hand," he stated flatly, "without the Zionist Union or Liberman, I have a hard time imagining this government lasting for very long."
On the other hand, he said, "It's hard for me to imagine having new elections four or five months from now, especially after the trauma of the last elections. It's not worth it for either side. The people always punish the party that forced the country into elections. There were elections, the government fell apart after less than two years, so we had another round of elections and didn't manage to do anything then either.
"I also don't believe that the opposition wants elections. The public will object if the elections take place early. People won't show up to vote. No one will understand why we are even having elections. The electorate will simply say, 'We did everything you asked us to do. There are now two major parties, so go run the country.'"