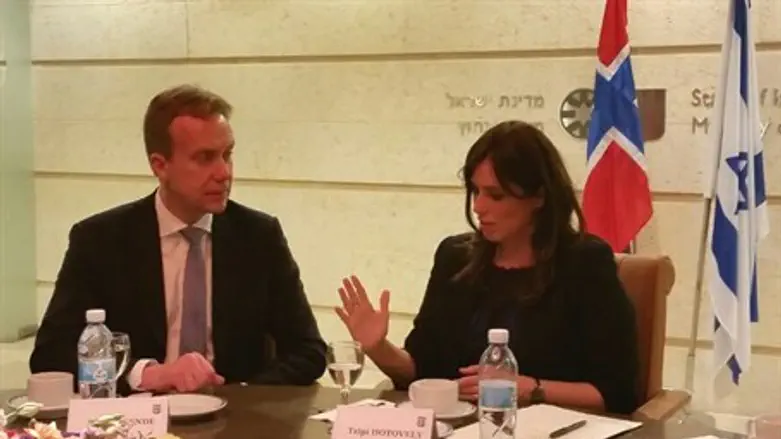 Hotovely and Brende
Hotovely's office
Deputy Foreign Minister Tzipi Hotovely (Likud) on Tuesday met with visiting Norwegian Foreign Minister Borge Brende, and told her guest that there is a consensus among Israelis that Jerusalem must remain united.
Hotovely said that the new Israeli government "represents the desire for dialogue and opposes unilateral steps by the Palestinians."
"It is very important to the State of Israel that Europe, including the Norwegian government, will not support unilateral steps by the Palestinians," she told Brende.
"We expect you to put pressure on the Palestinian leadership to recognize Israel's existence as a Jewish state," added Hotovely.
She also noted in her conversation with Brende that Jerusalem Day was marked in the Knesset this week, adding that Prime Minister Binyamin Netanyahu declared that Jerusalem will remain united and that even opposition leader Yitzhak Herzog agreed with this statement.
"The Norwegian government has to realize that there is an Israeli consensus regarding the unity of Jerusalem," Hotovely said.
The meeting comes amid international pressure on Israel to stop building new homes in Jerusalem, Judea and Samaria.
Recently, Israel approved construction of 900 homes in the Jerusalem neighborhood of Ramat Shlomo, a haredi neighborhood in the eastern part of the capital.
The European Union later criticized the Israeli plans, saying "Israel's determination to continue its settlement policy despite the urging of the international community not only threatens the viability of the two state solution but also seriously calls into question its commitment to a negotiated agreement with the Palestinians."
The State Department in Washington also condemned the move, calling it "disappointing" and "damaging".