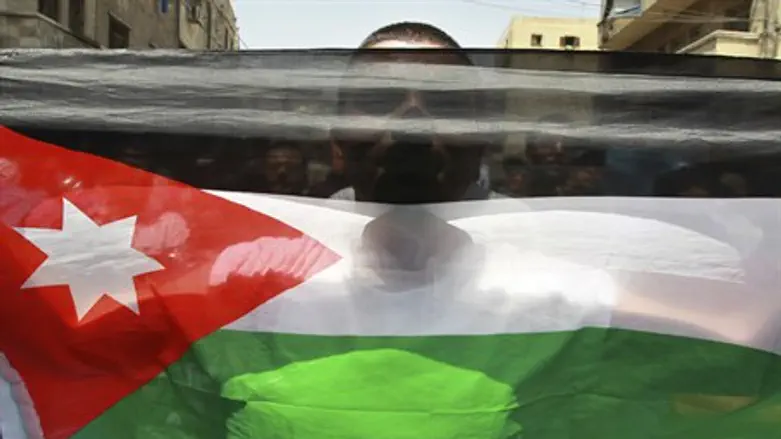 Jordanian flag
Reuters
Syria on Monday accused Jordan of training "terrorists" on its soil and urged the UN Security Council to force an end to Amman's backing of rebel groups, AFP reports.
The accusation came in a letter sent by the Jordanian foreign ministry to UN Secretary General Ban Ki-moon and the president of the UN Security Council, the official news agency SANA said.
The letter criticized the "public and systematic support provided by the kingdom of Jordan to terrorist groups, increasing the suffering of Syria's citizens because of crimes committed by these groups".
The letter alleges Jordan "provides logistical support to armed terrorist groups, including (Al-Qaeda affiliate) Al-Nusra Front", according to AFP.
It also accuses Jordan of having "set up terrorist training camps on its soil as well as operations centers to help these groups and facilitate the infiltration of thousands of terrorists a day (into Syria)."
Jordan is a leading supporter of the Syrian opposition, and this month the United States began training opposition fighters on Jordanian soil to fight the Islamic State group.
Syria's government refers to all those seeking Assad's ouster as "terrorists".
The letter urged the Security Council to take measures "to stop the actions of Jordan that threaten security and stability in the region and the entire world".
Last month, rebel groups including Islamists seized the key Nasib border crossing between Syria and Jordan, the last post between the countries that remained under regime control.
There has been tension between Syria and Jordan for quite some time, and last year Jordan expelled the Syrian ambassador, citing "continued offensive statements, through his personal contacts or writing in the media and the social media against the kingdom."
Syria later retaliated by expelling the Jordanian ambassador from Damascus.