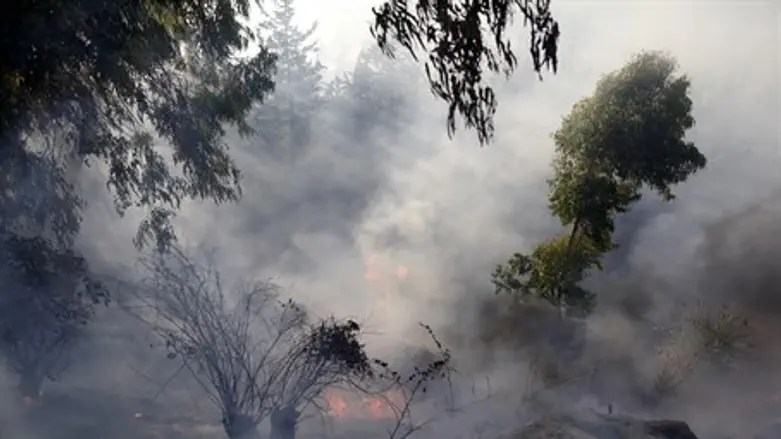 Suspected arson fire in Jerusalem (file)
Flash 90
A series of fires blazed across Israel on Monday morning, raising concerns both over the first heat wave of 2015 and the possibility of using the weather as a front for terrorism.
In Jerusalem, a fire broke out on Highway 1, causing smoke to flood surrounding villages and massive traffic jams on the intercity highway Monday morning. The blaze spread from the hills near the Givat Shaul cemetery to nearby Emek Ha'arazim; the Emek Ha'arazim tunnel remains closed to traffic, but the highway itself remains open. Firemen are still working to contain the blaze, according to Channel 10.
150 dunams (37 acres) of natural woodlands appear to have been set ablaze as well near Kibbutz Beit Haemek, in the Galilee. Firefighters say that the blaze may have been caused by a campfire despite repeated requests from residents not to being fires in that area. 
Wooded fires are also blazing near Uhm Al-Fahm, in the northern Samaria area, and in Moshav Ramot, to the east of the Kinnereth. 
In central Israel, additional fires have been reported in Adam, just outside of Jerusalem, and Achiezer, across from Lod's Ben-Gurion airport. In the case of Achiezer, 11 firefighting teams are working to contain a blaze spreading in a dense residential and industrial area.
Near Moshav Beit Yehoshua, just south of Netanya, a brushfire lit several cars and shut down roads as firefighters work to contain the blaze. 
Other fires in the central and Achiezer can also cause damage and disruption. Near Moshav Beit Yehoshua shutdown forces trying to take over the burning of large spikes set fire to several cars. In addition, the seat Achiezer operate 11 firefighters in a large area of ​​warehouses and homes. Electricity was cut off instead of turning kindergarten.
50 dunams (12 acres) of fire have also burned through a forest near the southern community of Renan; firefighters are working to contain the blaze through air unite to save six greenhouses affected by the blaze. 
Up north, additional blazes have been reported between Abu-Sanaf and Kafr-Yosif and in Wadi Ara; 200 dunams (49 acres) of natural forest have been destroyed. 20 firefighting crews are at the scene. 
Fires are common in Israel during the summer, as the dry and arid desert heat can easily fan the flames of dying campfires. However, terrorists have also used the weather as an excuse to commit arson across multiple points in Israel, and a wave of large forest fires last year was attributed, at least in part, to deliberate attempts to overwhelm firefighting forces and destroy property. 
The 2010 Carmel fire near Haifa, considered one of Israel's worst and which killed 44 people, was suspected by police to have been started by two Arab youths from the Druze village of Usafia. Nevertheless, the criminal case against them was closed in 2011 over "insufficient evidence."