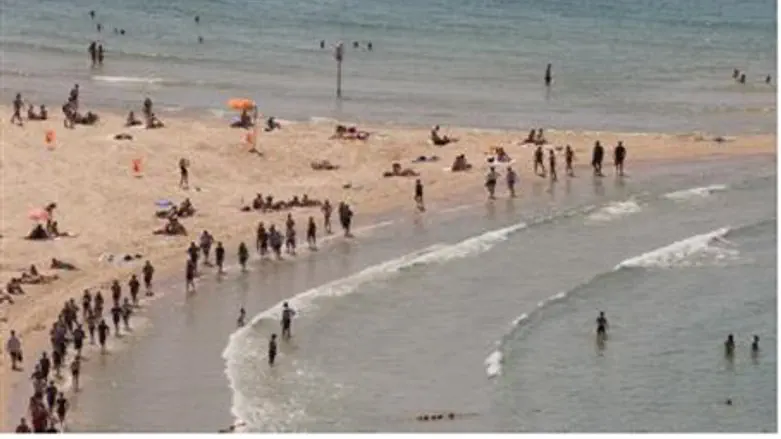 At the beach (file)
Flash 90
Sunday was hot but Monday will be even hotter as the first heat wave of the season strikes Israel. 
Temperatures are expected to rise considerably across the country, Channel 2 reported, with weather being described as torrid. Relief from the heat is not expected until later this week, on Thursday.  
The forecast for Monday is as follows: Nahariya - 35°C (95°F), Haifa - 35° (95°), Tiberias - 40° (104°), Ariel - 35° (95°), Tel Aviv - 37° (99°), Jerusalem - 35° (95°), Rehovot - 39° (102°), Ashkelon - 31° (88°), Beersheva - 41° (106°), and Eilat - 42° (102°).
Following Sunday's prediction of heavy heat for Monday, the Fire and Rescue Services have issued an order banning any and all campfires. People who violate the order will be prosecuted. 
Additionally, Magen David Adom (MDA) has issued a weather warning calling on the public to drink plenty of water, avoid outdoor physical activity during the day, as well as to limit exposure to the sun. 
"MDA teams stand prepared for possible damage as a result of the heat expected to visit Israel in the coming days," MDA Director General Eli Bin stated, stressing first priority is for infants and the elderly. 
The heat will continue on Tuesday, particularly in the mountains and inland. The coastal plain is expected to drop a few degrees, but winds will cause an increase in humidity. 
On Wednesday, temperatures are expected to decrease considerably, but will still be unusually hot in the mountains and inland. Only on Thursday will Israel see substantial relief from the heat wave. 
While the cooler, nice weather will continue Thursday into Friday, another heat wave may strike the region early next week.