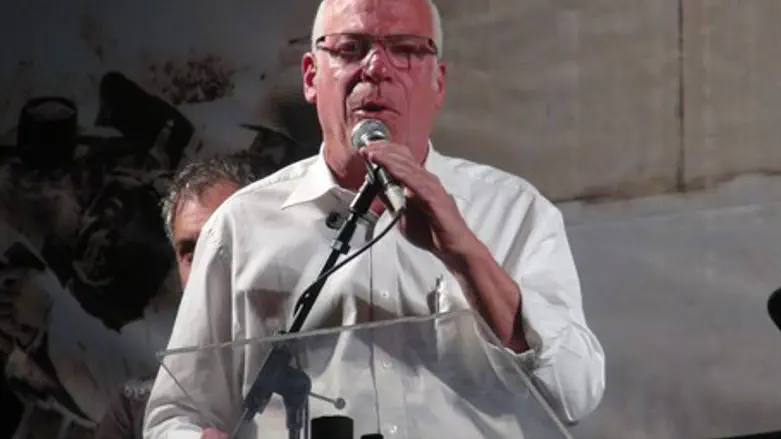 Minister Uri Ariel at Rikudegalim
Yoni Kempinski
Agriculture Minister Uri Ariel (Jewish Home) on Sunday evening participated in a rally at the Western Wall, after the traditional Rikudegalim ("flag dance") in honor of Jerusalem Day.
In his remarks at the rally, Ariel spoke of Rabbi Moshe Levinger of blessed memory, who was laid to rest earlier Sunday in Hevron, and promised to continue his legacy of building in Jerusalem, Judea, Samaria and all of Israel.
"These days we lost Rabbi Moshe Halevi Levinger, the rabbi of the settlement movement in Judea and Samaria and in all parts of the Land of Israel. We are all his disciples," he said.
"I ask you - will Jerusalem will be divided? No. Will Jerusalem be built? Yes," continued Ariel. "We are all united in continuing the rebuilding of Jerusalem. I ask all of you, look at the Temple Mount and see what a great miracle it was when it was liberated."
Later on Sunday, Ariel also participated at the Jerusalem Day celebration at the Mercaz Harav Yeshiva.
"It should be clear, beyond the Jordan to the west there will only be one state and that is the State of Israel," he said. "All the rest is rubbish. It should be clear that there is only one Jerusalem and it belongs to the people of Israel. We will continue to build our country. Your spirit and the spirit of the people of Israel are impossible to defeat."