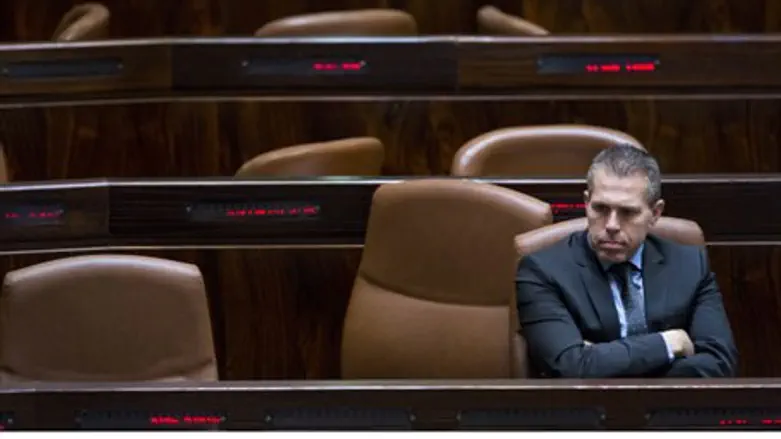 MK Gilad Erdan
Yonatan Sindel/Flash90
Former Interior Minister MK Gilad Erdan (Likud) addressed his decision not to join the fourth government of Prime Minister Binyamin Netanyahu on Friday, after reportedly rejecting an offer to become Public Security Minister in the thirty-fourth government of Israel. 
"After a period of about six months where the country stood still and stopped, the time has come to go to work," Erdan began in a Facebook post. "I congratulate my fellow ministers and wish success for all of us." 
"Personally, this is a very complicated day for me and my best friends who have accompanied me throughout my political path," he added. "I decided not to join the proposed government with the role outlined for me. The reason: principles." 
He said that from a young age he dreamed of serving the public.
"As soon as I was elected, the public good, and it alone, was standing in front of me and I acted vigorously to promote public interests in the field of economy, environmental protection, communication, and the Home Front," he noted. 
"I had hoped to continue to serve you well in this government, but, unfortunately, the proposal offered me the prime minister did not give me the necessary tools to lead the real change we need in the Ministry of Public Security and the police," he said. "In these circumstances I could not take on this role." 
Erdan had been demanding both the Interior Ministry and the Public Security Ministry in order to overhaul Israel's disastrous police system. 
Instead, MK Yariv Levin (Likud) has been appointed Public Security Minister and MK Silvan Shalom (Likud) is Interior Minister.