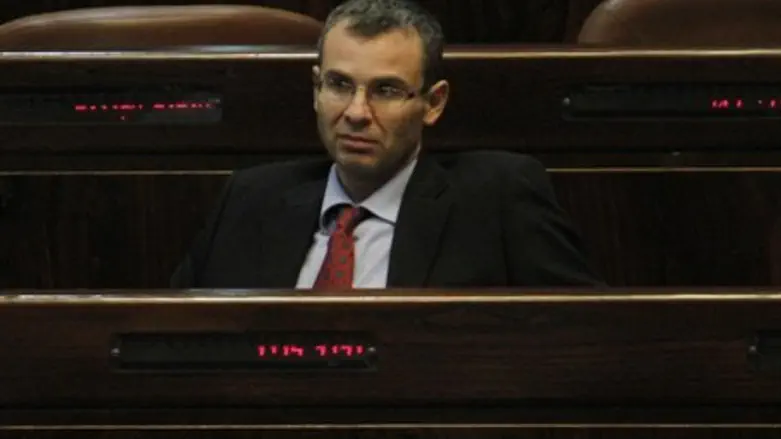 MK Yariv Levin
Israel news photo: Flash 90
The distribution of ministerial portfolios amongst Likud MKs will begin Wednesday night, after the Knesset voted to increase the number of ministers beyond 18.
Anticipation, and tensions, in Likud are high.
"I definitely want to be a minister but I do not know what the Prime Minister will ultimately decide," MK Yariv Levin (Likud) stated to Army Radio Wednesday evening. "I have to have patience."
"I am committed to the Likud and I will accept any decision that the Prime Minister makes," he added.
"In the previous term we had a bigger government but its management was very hard and there were many disputes," Levin reflected. "We always knew that we needed to unite the Likud with all disputes and desires of each of us."
Earlier Wednesday, MK Danny Danon (Likud) also spoke to Walla! News about the expected appointments. 
"The next government will have 12 Likud ministers, so there will be seven new ministers," Danon said. "I believe that my place is guaranteed."
"I'm glad that Welfare Services remains in the hands of the Likud," he added, noting that he had indicated to Prime Minister Binyamin Netanyahu that he would like to be involved in that ministry. "But I leave that decision to him."
Danon also reflected on the position of Yisrael Beytenu, which backed out of coalition talks last week and voted on the Opposition's side of the narrow Knesset vote Wednesday afternoon. 
"I think there is room for [Yisrael Beytenu chairman Avigdor] Liberman in the coalition," Danon opined. "It feels strange to see him with [Joint List MK Hanin Zoabi] and Meretz working against us. It is not natural, I believe that he will return to the government."
Meanwhile, Channel 2 predicts that outgoing ministers Moshe Ya'alon, Silvan Shalom, Yuval Steinitz, Gilad Erdan, and Yisrael Katz are expected to retain ministerial positions.
Levin and MK Ze'ev Elkin are expected to be appointed to new positions, according to the agency, as they led coalition negotiations. 
MKs Miri Regev and Gila Gamliel are also possible candidates; Netanyahu has also allegedly made promises to MKs Haim Katz and Benny Begin. 
Political sources stated later Wednesday that out of the remaining 12 ministerial posts, 11 have already been assigned. The final post will allegedly go to one of four MKs - Danon, MK Tzipi Hotovely, MK Tzahi Hanegbi, or MK Ofir Akunis. Of those, the three who are not chosen are expected to be appointed as Deputy Ministers or to be appointed the head of a Knesset Committee.