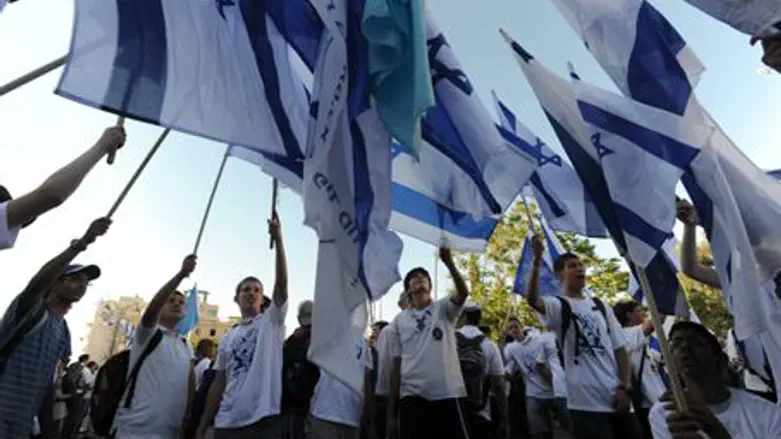 Jerusalem Day
Israel news photo: Flash 90
High Court justices have dismissed a petition by extreme left-wing organizations Ir Amim and Tag Meir against holding the traditional Jerusalem Day 'Rikudegalim' flag march. 
However, in their rulings the judges emphasized that anyone caught shouting racist slogans would face immediate prosecution.
"There is no doubt that when we see the videos that there is something unsympathetic here, and we want to make sure as much as possible that incidents will be prevented from erupting in advance," High Court President Justice Elyakim Rubinstein began. 
"There is no doubt that there are provocateurs who try to influence the parade and give it a bad name and we should see that they do not get [to participate in] the march," he continued, referring specifically to those who say 'Death to Arabs.'
"This is not freedom of expression but freedom of incitement," he insisted. 
A representative for the defense told the hearing about the police preparations for the march, and made it clear that things are done in coordination with community leaders to ensure that the march is in observance of the law.
"In recent days, there is a good relationship between the organizers and the Rabbis, led by Rabbi Haim Druckman, and they have prevented ugly things," he said.
"I note that videos of leftist organizations are edited and do not show provocations. We should respect the march," he noted.
Justice Yitzhak Amit suggested in the discussion that rabbis should notify yeshiva students that shouting 'Death to Arabs' during the march will bar them from the institution for a 14-30 day period.
The justices agreed on a 'zero tolerance' stance toward the anti-Arab statements. 
Jerusalem District Police Commander Moshe Edri said that "incitement takes place on both sides" and that the police are working to have the parade be conducted "peacefully."