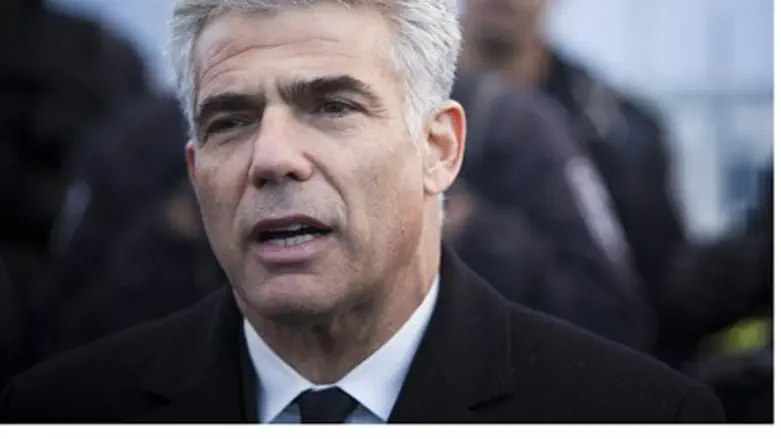 Yair Lapid
Yonatan Sindel/Flash 90
The Legal Advisory of the Knesset responded to attempts from Yesh Atid to block the expansion of the Cabinet on Monday, and has filed an application for an interim order to delay the legislative process of amending the Basic Law to allow such a move. 
The response, filed on behalf of Knesset Speaker Yuli Edelstein (Likud) and Knesset Legal Advisor Eyal Yinon, argues to reject Yesh Atid's petition on grounds that the bill had not been submitted to the Knesset for vote yet and is therefore premature. 
The Attorney General also filed its response to the petition, stating that "there is no room to extend the interim orders sought" due to the low likelihood of the petition being ratified and due to time and convenience considerations in the rush to finalize the government. 
The Attorney General's Office also stated that the case does not justify High Court intervention and that any discrepancies in the law will be addressed internally by an intra-parliamentary committee.
On Sunday night, Lapid gave the government a 12-hour deadline to respond to his appeal against the extension of the Cabinet from 18 ministers to 22, which was approved in a ministerial vote earlier that day. 
The motion, filed earlier by MK Ofer Shelah and Yesh Atid's attorneys, claims that the current transition government is not empowered to change or update basic laws, even if it can muster the 61 votes needed to temporarily suspend the limit on 18 ministers, as the law prescribes.
In addition, the motion contends that the coalition agreement provides for an unlawful distribution of funds by parties and specific MKs, distributions that the Attorney General has declared illegal. According to reports, numerous MKs in Shas, United Torah Judaism, and Jewish Home have been given specific sums, as much as NIS 20 million, to spend on projects.