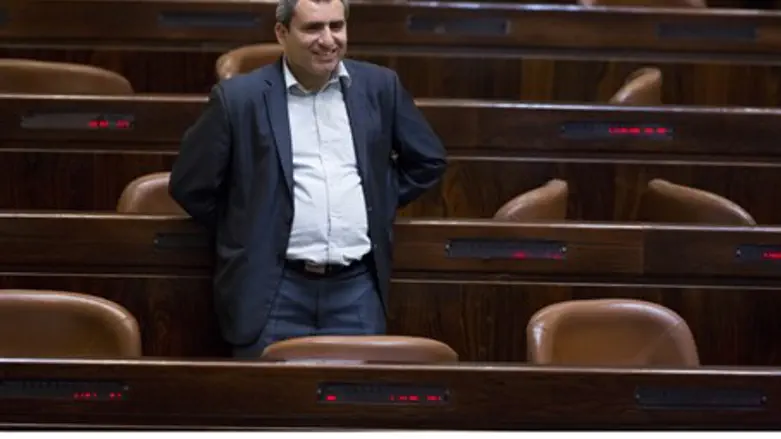 Ze'ev Elkin
Yonatan Sindel/Flash90
Yesh Atid chairman Yair Lapid is raising a fuss for the sake of doing so, Likud MK Ze'ev Elkin implied in an interview Monday morning, noting that Lapid never objected to the expansion of the government during the thirty-third government of Israel. 
"The same government in which Yair Lapid sat had 22 Cabinet ministers," Elkin stated, in an interview with Army Radio.
"When you serve as Finance Minister and you have five ministers (under you), suddenly 22 is fine," he noted. "But when you're in the Opposition, suddenly 20 ministers are as if the heavens are being destroyed." 
"Probably in the mathematics of the former Finance Minister 22 is less than 20," he quipped. 
On a more serious note, Elkin proposed, "you can establish a divided government here and give some ministers responsibility for ministries, but only after a few weeks."
"Why begin it all on the wrong foot if we can pass this simple amendment? Even the Attorney General said there was no problem to do this."
On Sunday night, Lapid gave the government a 12-hour deadline to respond to his appeal against the extension of the Cabinet from 18 ministers to 22, which was approved in a ministerial vote earlier that day. 
The motion, filed earlier by MK Ofer Shelah and Yesh Atid's attorneys, claims that the current transition government is not empowered to change or update basic laws, even if it can muster the 61 votes needed to temporarily suspend the limit on 18 ministers, as the law prescribes.
In addition, the motion contends that the coalition agreement provides for an unlawful distribution of funds by parties and specific MKs, distributions that the Attorney General has declared illegal. According to reports, numerous MKs in Shas, United Torah Judaism, and Jewish Home have been given specific sums, as much as NIS 20 million, to spend on projects.