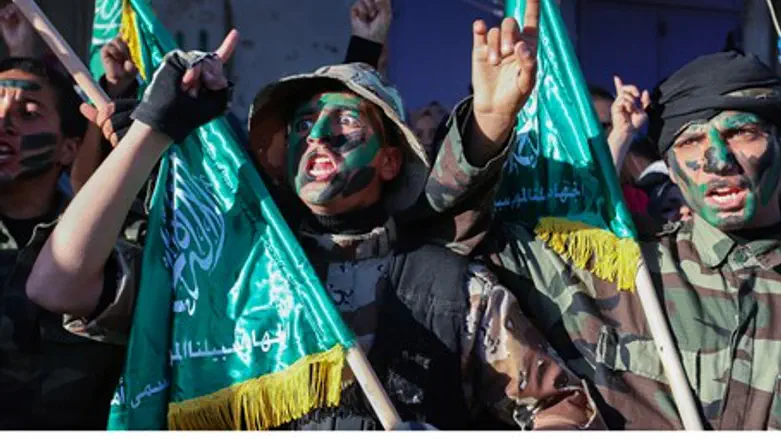 Hamas supporters
Abed Rahim Khatib/Flash 90
Hamas has called on the international community to hasten to bring Israeli "war criminals" to trial in the International Criminal Court (ICC) on Saturday, following a report by far-left NGO "Breaking the Silence" accusing the IDF of "war crimes" for defending Israel during Operation Protective Edge in Gaza. 
The report by Breaking the Silence is based on alleged testimony from 60 officers and soldiers who served in Operation Protective Edge. The "evidence" includes allegations of indiscriminate fire on civilian targets by soldiers who took part in the fighting against terrorist organizations Hamas, Islamic Jihad and others in the summer of 2014.
In an official statement released Saturday, Hamas called on Arab and international organizations to take concrete action over the report, and praised the announcement of several left-wing parties in the European Parliament calling for freezing all activity with Israel following the report. 
Last week, grassroots organization Im Tirtzu revealed that an Arab-Palestinian Foundation based in Ramallah called the Arab Human Rights Fund (AHRF) ordered and financed Breaking the Silence's report.
The AHRF - an organization in regular contact with such terror organizations as - the Popular Front for the Liberation of Palestine and Global Jihad - provided Breaking the Silence with US$300,000 to write the report, the organization showed.