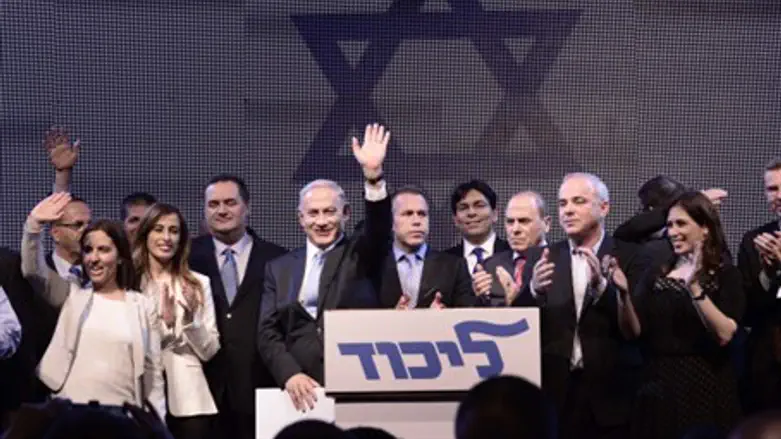 Likud after elections (file)
Tomer Neuberg/Flash 90
The Knesset is to vote next Monday on a bill to re-expand the maximum number of ministers, which was limited following a demand by Yesh Atid head Yair Lapid in the last government.
The bill follows an instruction given by Prime Minister Binyamin Netanyahu, and coalition agreements, but senior members of Netanyahu's own Likud party are apparently using the vote as an opportunity to vent frustrations with him and demand ministerial positions.
Since the bill constitutes an amendment to a basic law, it will require a Knesset majority of 61 votes in favor to pass. Netanyahu's coalition government consists of exactly 61 MKs, meaning he will need every vote.
Netanyahu is exerting pressure on Likud MKs to vote for the bill by postponing his announcement of how the ministerial positions will be distributed until after the vote.
However, senior Likud MKs told Channel 2 on Thursday that they won't support the bill unless they are expressly told by Netanyahu what positions they will receive.
Channel 10 reports that Negev and Galilee Minister Silvan Shalom (Likud) is threatening not to support the bill unless he is appointed foreign minister, saying if he doesn't receive it "I'm out," possibly indicating he will not support either the bill or the government.
Ministers Gilad Erdan and Yuval Steinitz also reportedly are demanding the foreign portfolio, with Netanyahu said to be inclined to appoint Erdan as internal security minister instead.
If the bill fails it will not only be an embarrassment for Netanyahu, but also will indicate the unstable nature of the new coalition government in its very first steps and possibly point to a short lifespan to be expected from it.
Earlier on Thursday MK Ayoub Kara (Likud) threatened not to show up for the swearing-in of the new government in the Knesset next Wednesday, if he is not appointed minister.
"No one is talking to me, I have not been invited to a meeting regarding the possibility that I will be appointed minister," he complained. "I will want to know, in case Netanyahu does not appoint me, if this is because of personal motives. If the problem is personal, then I do not mind if someone else is appointed, but if he intends to ignore the Druze community, and not appoint anyone from the community or from the minorities as a minister in his government, that is a serious matter."