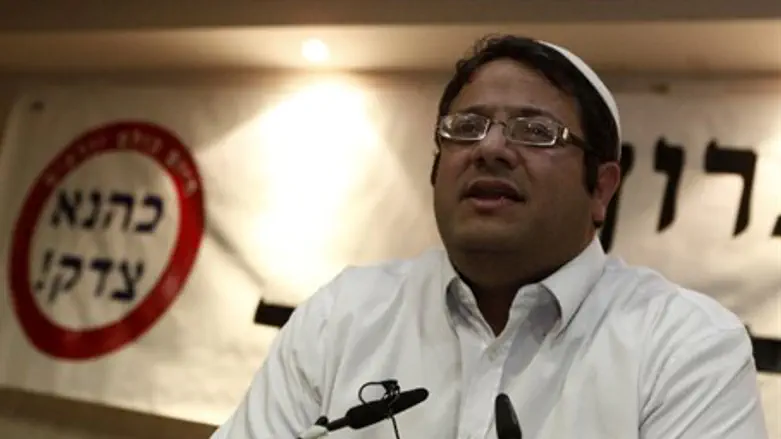 Itamar Ben Gvir
Flash90
Usually, you would want an individual appointed to a specific ministry to have had some experience in the field; one would have misgivings, for example, if an individual who was excused from IDF service was appointed Defense Minister.
Incoming Justice Minister Ayelet Shaked does not have experience in the legal profession either – but in this case, says activist attorney Itamar Ben-Gvir, that's a good thing.
Shaked, he said, has not yet been "infected" by the leftist thinking rampant in Israel's legal establishment. As a result, he said, she will not capitulate to pressures placed upon her by the "branja," the ruling clique that sets the tone for attitudes among Israeli elites.
"Even people who did not vote for Jewish Home are praying for Shaked to succeed," said Ben Gvir. "She will have many challenges before her as Justice Minister, and she will be able to have a lot of influence and make many changes. She will chair the Ministerial Law Committee, she will appoint the Attorney General, and she will appoint judges. The justice portfolio is more important than any other in setting the tone for Israel's future."
Ben Gvir does not believe that Shaked will allow herself to be intimidated by her "betters" in the legal establishment, as has happened in the past with other promising candidates who hoped to make changes. "She does not appear to me to be that type," he said. "It is no secret that I did not vote for her party, but I believe she is skilled and will not be easily intimidated."
The most important advice Ben Gvir had for Shaked was to make clear what she planned to do, early on.
"She must enunciate her positions and intentions within the first 100 days of her term, and not sit back passively and let events unfold," he said. "She should certainly not fear the inevitable attacks on her in the media. Time is of the essence and there are many changes that need to be made."