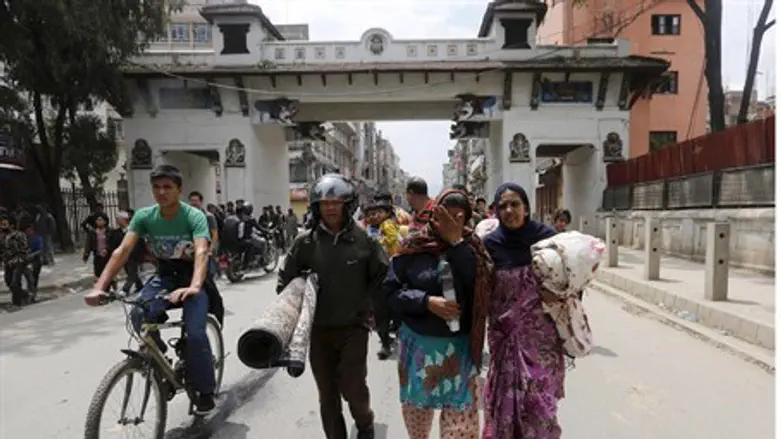 Family runs for shelter in aftershock at Kathmandu, Nepal
Reuters
The Foreign Ministry has issued a low-level travel advisory for Nepal on Tuesday, about 10 days after the devastating earthquake that has killed over 7,000 people. 
"The reconstruction process in Nepal will take some time, and meanwhile, there exists particularly challenging conditions - shortage of medicine and medical services, erratic food supply in some affected areas, and contaminated drinking water," the Ministry warned. 
"We suggest that this be taken into account by those who intend to travel to Nepal and by those who want to stay longer in the country, and recommend citizens to reconsider their decision."
Nepal is a popular travel spot for Israelis, particularly IDF veterans in their early twenties looking to travel the world after finishing their service. 
Hundreds of Israelis were airlifted from Langtang and Kathmandu in the wake of the earthquake, which measured 7.8 on the Richter scale. During the airlifts, several incidents were reported of desperate locals attacking rescue helicopters. 
One, 22 year-old Or Assraf, was killed by a landslide during the disaster; his body was found on Sunday.