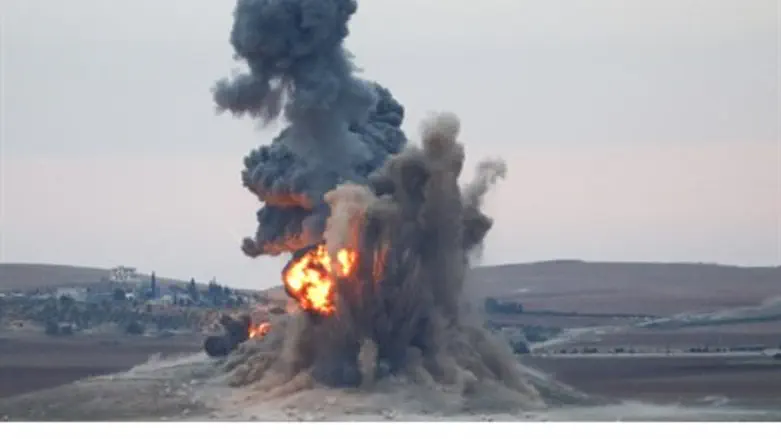 US airstrike in Syria
Reuters
A monitor and Syria's opposition on Monday called for an investigation into a U.S.-led coalition strike last week that allegedly killed 64 civilians, nearly half of them children, in northern Syria.
The Syrian Observatory for Human Rights, a Britain-based monitor that tracks deaths in the war, said the strikes in the village in Aleppo province overnight Friday needed to be investigated.
"We call for a serious investigation into what happened with the strikes on Birmahle, because this is a massacre," Observatory director Rami Abdel Rahman told the AFP news agency.
Syria's opposition National Coalition, which is backed by Washington, said it could not be certain who was behind the raids on Birmahle, but said that available information "lends credence to reports that it was a U.S.-led coalition air strike".
"It is absolutely vital, therefore, that such reports are taken seriously and a full investigation into the incident is carried out immediately," Coalition spokesman Salem Al-Meslet said in a statement quoted by AFP.
The Observatory reported Saturday that the coalition fighting the Islamic State group had killed dozens of civilians in strikes on Birmahle between April 30 and May 1.
On Monday, Abdel Rahman said the toll had risen to 64 civilians, including 31 children, with no IS fighters among the dead.
The United States military had on Sunday acknowledged coalition strikes in the Birmahle area but said it was unaware of any civilian deaths.
A spokesman for the United States Central Command confirmed in a statement that "Coalition forces conducted airstrikes in the vicinity of Birmahle, Syria, on April 30, destroying several [ISIS] fighting positions and striking more than 50 [ISIS] fighters."
"We currently have no indication that any civilians were killed in these strikes," added the spokesman, Major Curt Kellogg.