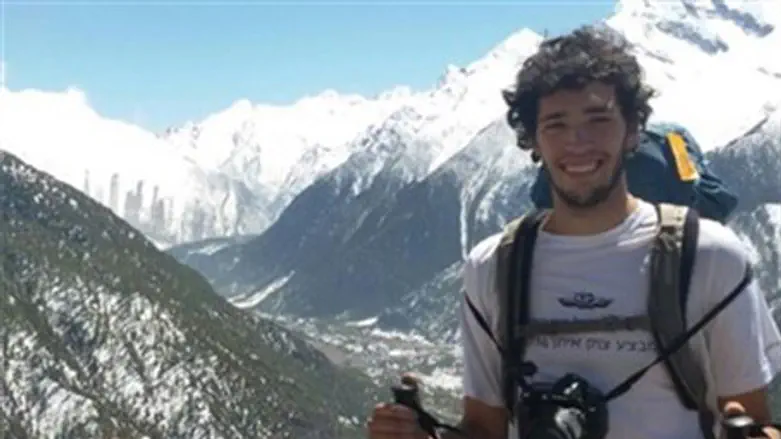 Or Assraf
Family photo
Prime Minister Binyamin Netanyahu on Sunday evening spoke with Patrick Assraf, father of IDF soldier Or Assraf whose body was found earlier in the day in Nepal.
"We did our utmost to find Or but we hoped for a different outcome. This is the State of Israel's obligation to Or, a heroic soldier who fought for the security of Israel's citizens. I share in your family's deep sorrow," Netanyahu said.
President Reuven Rivlin also referred to the finding of Assraf's body and spoke of his sadness upon hearing about his death.
"The terrible news of Or Assraf's death is heartbreaking. The mobilization of search and rescue forces, and the loyal support of his army comrades in the search, instilled within us great hope.  It was the prayer of an entire nation that he would be found alive and well.  My sympathies go out to his family after this difficult and tragic loss," the President said.
Friends of Or Assraf who had been with him on his trek in Nepal said earlier on Sunday that it appeared that he fell from a cliff when the earthquake struck last weekend.
It is not known if he remained alive after the fall, but experts said he almost certainly could not have remained alive for more than a few hours, given the nature of his injuries.
Earlier Sunday, Israeli rescue teams began returning from Nepal. Dozens of Israelis were reported missing in the aftermath of the quake, but all – except Assraf – had been found, and nearly all have either arrived or are en route to Israel.
Assraf's father had remained cautiously optimistic that his son would be found alive, telling Channel 2 News on Friday, "I continue to maintain a cautious optimism as long as it is not proven otherwise, that he is healthy and alive."