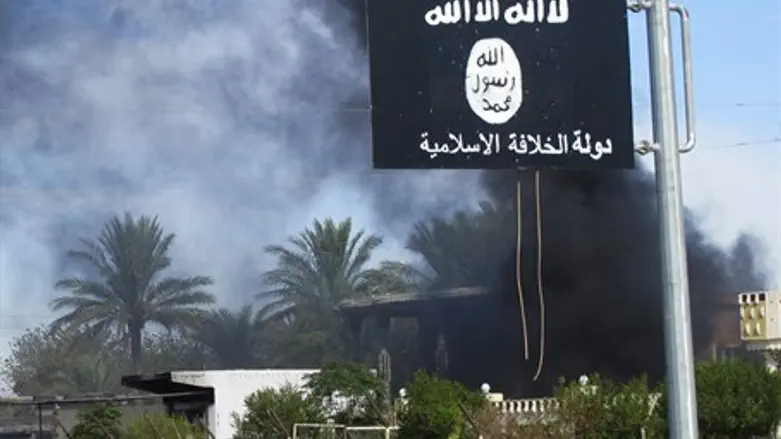 ISIS flag
Reuters
ISIS on Sunday claimed responsibility for a late-night car bomb attack in Baghdad that killed at least 19 people, saying it was targeting a Shiite militia, according to The Associated Press.
The two car bombs went off about 10 minutes apart late Saturday in the Karrada district, known for its restaurants, cafes and ice cream parlors.
Police said the dead and wounded were mainly shoppers and people commemorating the death of Imam Ali, a key figure in Shiite Islam. Two traffic policemen were among those killed, according to AP.
Sunday's claim of responsibility by ISIS is similar to previous claims this past week, in which the terrorists characterized the attacks as a response to fighting in the western Anbar province.
There has been a spike in terrorist attacks in Baghdad over the last week, including an attack in which eight Iraqis were shot dead and dumped in the Iraqi capital.
An interior ministry official and a tribal leader said the men, who were found in the capital's Jihad area, were people who had fled violence in Anbar, but a police colonel and a medical source said their identities were still not known.
Those killings came a day after a woman and two children were shot dead in the Abu Dsheer area of Baghdad.
Interior ministry spokesman Saad Maan said the Abu Dhsheer killings may have been related to "a family problem" and that the incident was being investigated, but rumors had circulated online that the three were killed by displaced people from Anbar, raising the possibility that subsequent attacks on people from the province may have been carried out in revenge.
Anbar is a massive desert province that stretches from the borders with Syria, Jordan and Saudi Arabia to the western approach to Baghdad.