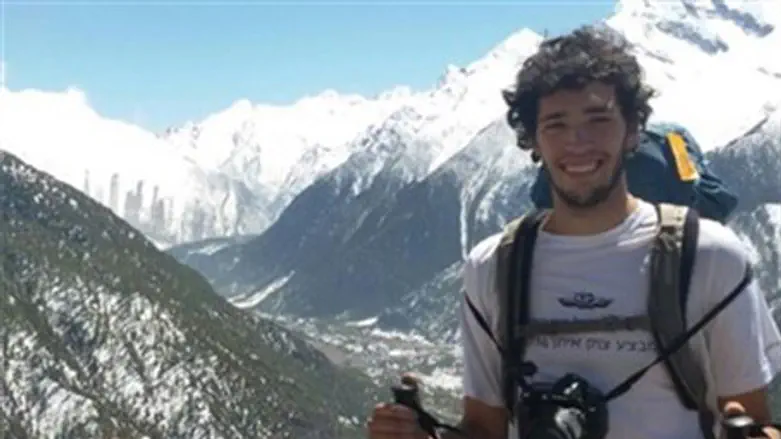 Or Assraf
Family photo
Friends of Or Assraf who had been with him on his trek in Nepal said that it appeared that he fell from a cliff when the earthquake struck last weekend. It's not known if he remained alive after the fall, but experts said he almost certainly could not have remained alive for more than a few hours, given the nature of his injuries.
Speaking to Israeli reporters, members of the Egoz IDF unit who had been on the trek with Assraf said that they had accompanied a large group of Zaka, Magen David Adom, and other volunteers in a search and rescue operation sponsored by the IsraLife organization. Assraf's body was identified by the commander of the unit.
The fall occurred in a treacherous area of the Langtang region (the Frozen Lakes) in Nepal, and Assraf was apparently toppled off the cliff by the force of the quake, which caused him to lose his footing. The area is still unstable, members of the rescue party said, and they were taking shelter overnight near the site where Assraf's body was found. They hope to bring in equipment to extract the body and fly it by helicopter to Katmandu, from where it will be brought home for burial in Israel.
Earlier Sunday, Israeli rescue teams began returning from Nepal. Dozens of Israelis were reported missing in the aftermath of the quake, but all – except Assraf – had been found, and nearly all have either arrived or are en route to Israel.
Patrick Assraf, father of the slain Or, had arrived in Nepal several days earlier. Several objects belonging to the 22-year-old had been found. The items had been in Or's backpack, his father reportedly confirmed over the weekend. Channel 10 indicated these include identifying documentation, but did not provide details. On Sunday, several informal news-related Twitter accounts have claimed that Assraf was found dead.
"We promised to bring Or home, but I didn't expect his journey to end like this," he said in a statement. "I am deeply grateful for the efforts and expense all the searchers went to in order to find Or, and I want to thank the government that provided all this help, at great danger to themselves. It's sad to see that there are so many destroyed houses here, and no one is helping them – but for an Israeli, there is so much assistance from our own people."
Eli Beer, chairman of IsraLife and of Ichud Hatzalah, said that he and all those involved in the search were mourning Or as well. "Each day we searched we hoped we would find him alive," he said. "We are comforted that as a result of our efforts we can at least give Or a Jewish burial."