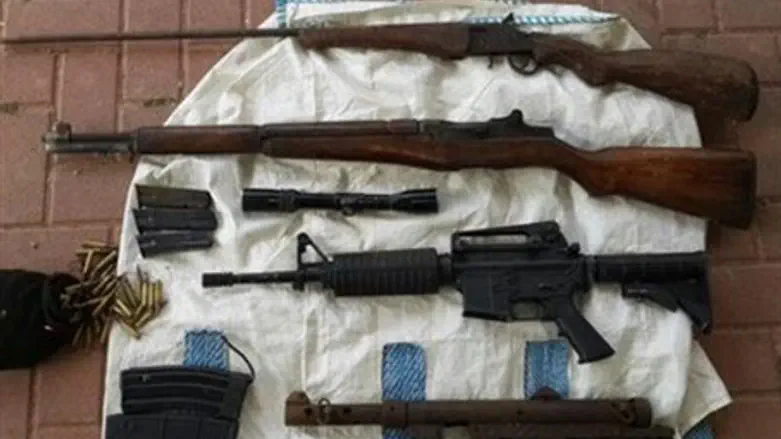 Weapons seized in Samua, 2.5.15
Police Spokesman's Unit
Members of the Border Police's Southern District Central Unit arrested a senior member of a group of arms dealers Saturday night, in the village of Samua, in southern Mount Hevron.
With assistance from the IDF, the policemen conducted a search of the man's home in the wee hours of the night, and found four weapons stashed away. An M-16 rifle was found hidden inside the cushions of a sofa. Later, a sniper rifle was found hidden behind a cabinet along with a telescopic sight.
Boxes of ammunition for rifles and handguns were also found, as were two other guns.
The suspect, who is in his 30s, was arrested and taken to interrogation at the Border Police Southern Central Unit.
The arrest is part of the Israel Police's ongoing fight against illegal weapons. Three weeks ago, the same Border Police unit carried out a raid in which three supects were nabbed and two weapins were seized.
"This is a resolute and uncompromising struggle for defeating the phenomenon of the posession of illegal weapons, whose purpose is not clear," explained Lt. Col. Ronen Goresh, Commander of the Border Police Southern District Central Unit. "Sometimes the background [for the weapons' possession] turns out to be criminal, but in many of the cases, after intense investigation, it turns out that the purpose of the weapon is nationalistic."