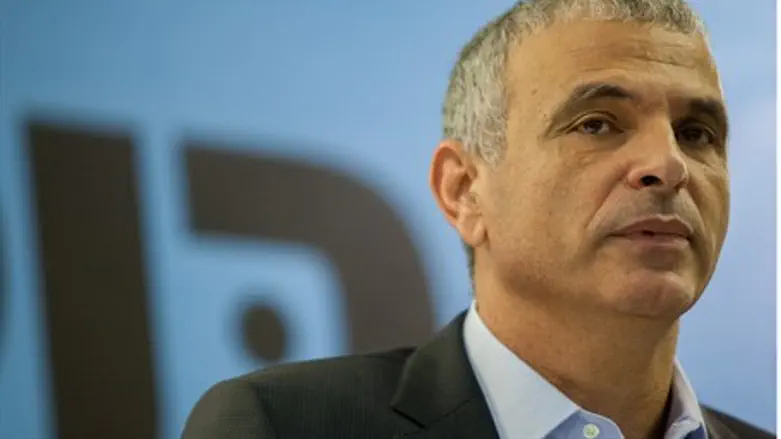 Moshe Kahlon
Ben Kelmer/Flash 90
Moshe Kahlon, who is to be appointed Finance Minister, declared on Saturday night that he intends to work towards making public transportation available on Shabbat.
"I support public transportation on Shabbat, this is a social issue," he said, speaking to Channel 2 News' "Meet the Press" program.
"You cannot say to someone who has no money 'take a taxi on Shabbat,'" added Kahlon.
It should be noted that there is no clause in the coalition agreement between the Likud and Kulanu discussing any possibility of anti-religious legislation.
The issue over public transportation on Shabbat has been hotly debated in recent years and continued to be a primary issue during the 20th Knesset elections campaign. Labor, Kulanu, and Meretz heavily supported introducing the option for stranded city-dwellers. 
Sharp exchanges over the issue eventually ensued between Transportation Minister Yisrael Katz and Meretz MK Tamar Zandberg, who then countered with a bill to force MKs not to use their private vehicles on Shabbat in retaliation. 
The only city in Israel where limited public transportation is available on Shabbat is Haifa, going back to the period before the establishment of the State of Israel, when buses ran in the city on Shabbat due to its being a mixed city of Arab and Jews. This situation has remained due to the "status quo agreement", a political understanding between religious and secular political parties not to alter the communal arrangement in relation to religious matters in a predominantly secular population.
The Tel Aviv City Council approved in 2012 a proposal to operate public transportation on Shabbat but that proposal never advanced.
This week, Jerusalem began operating buses on Friday nights, though this is a private  initiative from Jerusalemites angered over Minister Katz's refusal to allow public transportation on Shabbat.