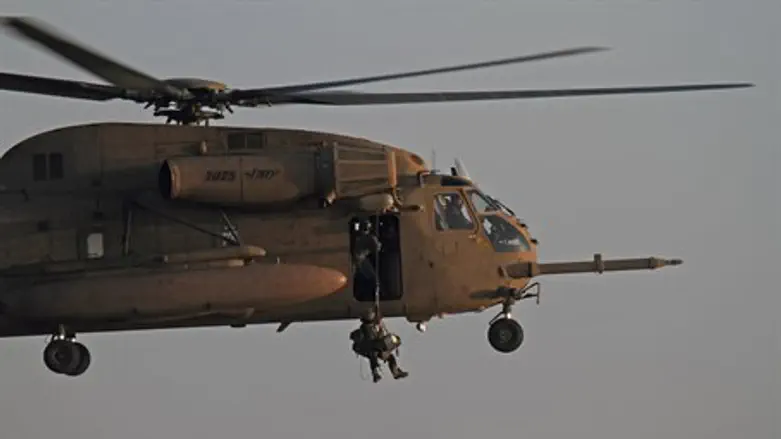 Helicopter rescue (file)
Ofer Zidon/Flash 90
The first helicopter has been sent to search for missing Israeli Or Assaraf on Friday, six days after the devastating earthquake in Nepal that has now killed at least 6,100 people. 
Patrick Assaraf, the father of the missing 22 year-old, left for Nepal on Monday night with some friends of his son to help search for the only Israeli who has not yet made contact, according to Channel 2.  
But on Thursday, the father claimed that the rescue stalled due to lack of helicopters for the search, and called on Prime Minister Binyamin Netanyahu to intervene and exert pressure to accelerate the process.
"Good friends are worried about him," Or's sister said. "They feel helpless at home, so they joined [the search]. It is emotional to me, and shows their bravery, that they want to help and to help search - I hope they come back safely."
She added that if he could see this, "tell him that we love him very much and to take care, give him hugs from me and we will give him a hug at home."
Assaraf, a discharged soldier from the Lehavim unit, fought and was wounded in Gaza during Operation Protective Edge.
According to the information held by the family, the earthquake caught him during a post-army trek in Langtang. "We heard that a man who said he saw Or, and there were several such stories but everyone who saw him, saw him before the earthquake," his mother Orit said. "We don't know what happened afterward." 
Meanwhile, in the search for survivors and bodies, the focus has shifted to burial preparations.
"Morgues are full to overflowing, and we were ordered to burn the bodies immediately," said Raman Lal, an Indian citizen acting in coordination with the Nepalese rescue teams.
Now local residents rescued afraid to return home because of the pungent smell of bodies carried in the air, and many of them have been sleeping in fields.