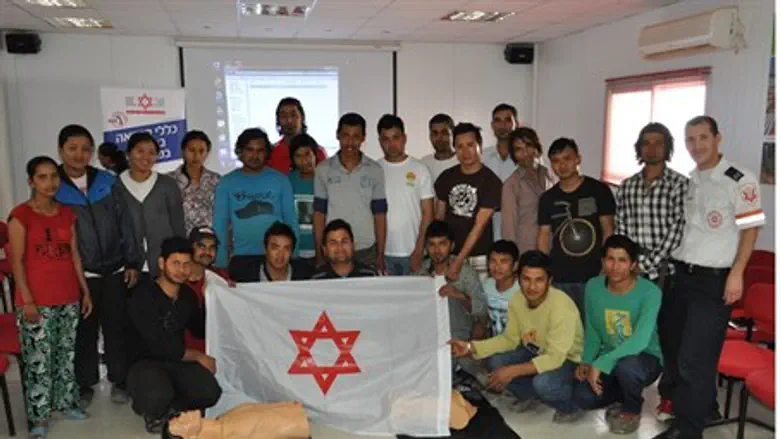 Nepalese students receive MDA training
Magen David Adom
Tens of thousands of Nepalese have been searching for a way to escape the devastation in their country, after a major earthquake wrought unprecedented damage on the country. 
But a group of 24 students from Nepal, safely ensconced in Israel, will be going home, equipped with life-saving skills they picked up in Israel.
The students are in Israel on scholarship study programs in various Israeli universities. In recent days, the students expressed a desire to go home and help out – and got in touch with Magen David Adom officials, who quickly moved to set up an emergency treatment and care course for the students, to train them in basic life-saving skills that they can use when they return to their home towns.
MDA paramedic Daniel Pollack conducted the workshop over the past week, teaching basic English to students (in order to enable them to communicate with doctors and other rescue workers), and training them on terminology and techniques to assist people with broken arms and legs and other injuries, as well as providing information on how to help people with internal injuries.
The students will be dispatched to Nepal to work with professional MDA teams, assisting them in providing basic services for those suffering from the effects of the quake.
Pollack said that MDA was especially happy to prepare the students, as part of its extensive efforts to help the injured in Nepal.
"The students were very interested and raised many questions about how they can help out in Nepal. Despite my short time with the students, I feel a deep connection with them and I'm happy I had the opportunity to prepare them to return to their country. I hope that the knowledge they received in the course will help them cope with the difficult situation in Nepal," he added.

"MDA is always happy to share their knowledge and experience of people in order to assist in saving lives in Israel and around the world," said MDA Director Eli Binn. "I see the project of training these students as one of utmost importance for us."
Nepalese students receive MDA training
(MDA)