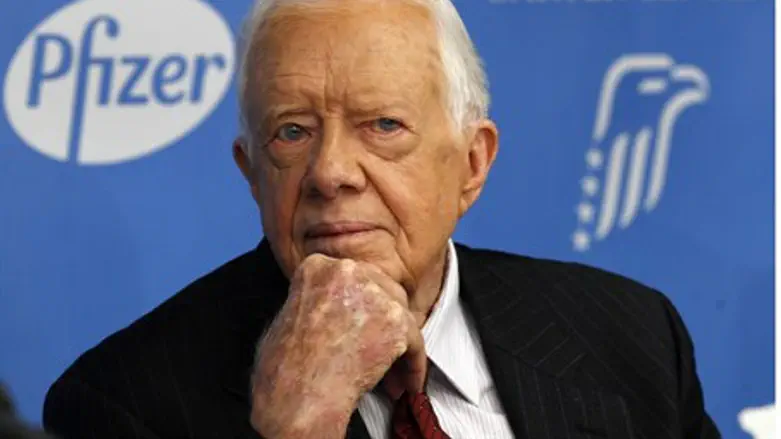 Jimmy Carter
Reuters
Former US President Jimmy Carter is to arrive in Gaza on Thursday and meet with top leaders of the Hamas terrorist organization.
"Carter will arrive in Gaza on Thursday through the Erez border crossing to meet with leading Hamas officials," a Palestinian Arab security spokesperson told the Turkish Anadolu Agency on condition of anonymity.
The 90-year-old former Democratic president is to meet Hamas leader Ismail Haniyeh among others, according to the Chinese Xinhua.
His visit is to focus on defusing the rapidly escalating schism between Hamas and Fatah, the leading faction in the Palestinian Authority (PA); despite a unity agreement last April that torpedoed peace talks with Israel the two remain bitter rivals.
"Carter has lately met with prominent Saudi officials and urged their intervention to achieve reconciliation between Palestinian factions, which was welcomed by Riyadh," Anadolu Agency quoted a Hamas spokesperson as saying.
The spokesperson added, "the Saudi government has begun preparations for mediation between the two movements to reach a 'Mecca II' agreement."
While Carter's three-day visit is to include stops in various parts of Israel, Judea and Samaria, both Prime Minister Binyamin Netanyahu and President Reuven Rivlin refused to meet him due to his blatant anti-Israel and pro-Hamas stance.
During Operation Protective Edge last summer, a counter-terror operation undertaken after Hamas launched a terror war with thousands of rockets fired at Israeli civilian centers and attacks via terror tunnels, Carter urged the US to remove Hamas from its terror list.
He said at the time there is "no justification in the world for what Israel is doing," castigating the IDF for its defensive efforts while not offering any condemnation of Hamas's countless terrorist attacks on civilian populations launched from civilian centers.
Hamas is currently rebuilding its capabilities to attack Israel, digging attack tunnels around the clock and developing new rockets.