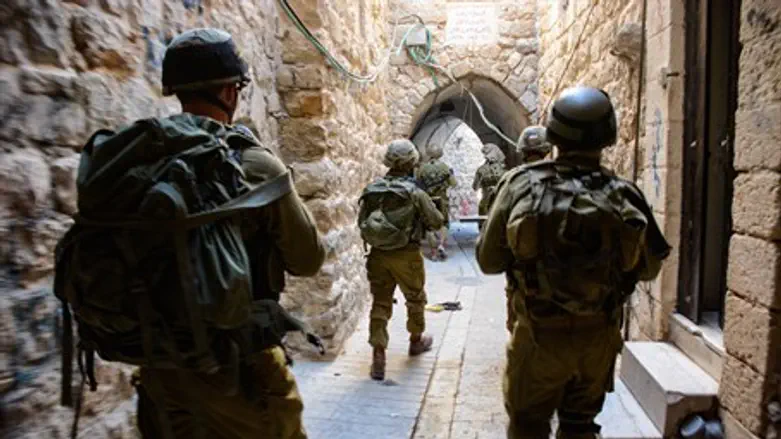 IDF in Hevron (file)
IDF Spokespersons Office
In the latest in a string of exposed smuggling operations by Hamas terrorists in Gaza, a gag order was lifted on Tuesday revealing that the Israel Security Agency (ISA), IDF and police in a joint operation thwarted a Hamas terror fund smuggling network.
The operation, which brought funds from Gaza to Judea and Samaria via Jordan, was conducted with the aid of Palestinian Arab lawyers, and three Arab suspects were arrested by the ISA as part of investigations.
The three consisted of Yakub Ashak Abd Alguwad Dais born in 1990, a Jordanian resident originally from Hevron in Judea; Yazan Abd Alrazak Abd Almati Shaur born in 1991, an attorney living in Hevron with connections to Hamas activists; and Yasser Mohammed Raduwan Kukas born in 1972, an attorney and Hamas activist originally from Beit Umar northwest of Hevron.
In the investigation it was discovered that the three worked to establish routes to transfer terrorist funds from senior Hamas leaders in Gaza to Dais in Jordan, and from there to transfer them to Shaur who would illicitly bring them into Judea and Samaria.
This route of illegal fund transfers, which was established under full coordination with senior Hamas sources in Gaza, was meant to fund the legal representation of Hamas activists in Judea and Samaria among other things.
Orders from Gaza were given to the three from senior officials, including Ahmed Diriye, who is originally from Judea and Samaria and served time in jail for his terrorist activities before being released and distanced to Gaza in the 2011 Gilad Shalit deal that saw 1,027 Arab terrorists go free.
The investigation also revealed that the money transfer routes were meant allow Hamas to fund the operations of its terrorists in Hevron and Bethlehem.
ISA reported that the Hamas transfer of funds to Judea and Samaria are principally intended to enlarge, build and strengthen its terrorist activities and infrastructure in the region, in areas largely under the administration of the Palestinian Authority (PA).
Indicating the threat of such activity, Hamas last summer attempted to stage a coup against the PA in the region which was thwarted by Israel.
The investigation highlighted the high motivation among Hamas's command in Gaza to bring terrorist funds into PA-controlled areas in a covert and diversified fashion so as to camouflage its actions, emphasized ISA.
By arresting the three, Israel blocked the transfer of considerable sums of money into the region for Hamas, harming its terrorist infrastructure in Judea and Samaria.
Indictments were submitted in military courts against the three suspects on the grounds of conducting services for an illegal organization, bringing in enemy funds to the region, holding possessions belonging to an illegal organization, and contacts with an enemy force.